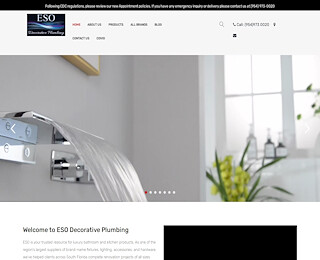 When you're in the market for kitchen faucets in West Palm Beach, keep Eso Decorative Plumbing in mind for the quality you seek at a price you'll love. We carry a large inventory of high-end kitchen and bathroom faucets to meet your every need, whether you're looking for something with a low profile or a faucet that is visually impactful. Check our inventory for extraordinary styles and an unwavering commitment to customer satisfaction from dozens of manufacturers we partner with at Eso.
5 Custom Kitchen & Custom Bathroom Fixtures You'll Love
1. Waterstone kitchen faucets in West Palm Beach provide homeowners with exceptional appeal and are made in the USA to the highest standards. Review our Waterstone selection to find bridge styles, pull-down faucets, wheel faucets, kitchen prep faucets, and many, many others designed and crafted by Waterstone.
2. Choosing Hansgrohe kitchen fixtures will allow you to display finely crafted German products in your home, including kitchen and bathroom hardware that will make your living space a standout. Shop for Hansgrohe showers, faucets, trims, drain systems, faucets, and more on our website or in-person when you visit our showroom.
3. Choose Baden Haus for bathroom vanities and bathroom remodeling projects that call for fixtures that are a cut above the rest. The BH line at Eso Decorative Plumbing includes bathroom lighting, smart technology accessories, shelving, cabinets, chairs, towel rails, and many additional items. Check out Baden Haus' newest Qubo collection that features matte black and natural wood vanities and cabinetry. Shop and save at our Web store.
4. Consider Icera luxury bathroom fixtures for one and two-piece toilets, wallhung styles, integrated bidets, console lavs, bathroom hardware, sinks, and vanities. You're going to love the contemporary look and feel that Icera brings to your custom project. If you have any questions about products or costs, get in touch with our team by phone; reach us at 954-973-0020.
5. Check with us for Rohl kitchen faucets in West Palm Beach when you want a product designed and manufactured to last a lifetime. The Rohl name is synonymous with quality and exudes elegance at every turn. Inspired by global design, Rohl uses locally sourced materials to deliver classic, contemporary, and medieval European architectural masterpieces to your home.
Eso Has It All
Why shop elsewhere when we have just what you're looking for at Eso Decorative Plumbing? One glance at our inventory and you'll clearly see that no other supplier can offer you more. We invite you to stop by our showroom to work with one of our kitchen & bath designers who can help you get your project underway or add the finishing touches.
Shop our full line of kitchen & bathroom faucets, hardware, lavs, sinks, vanities, showerheads, toilets, and more from the comfort of your home when you browse our website. Telephone assistance is just a call away if you should have any questions or need our help with product selection. When you're ready to experience unmatched quality and luxury, place an order through our Web store.