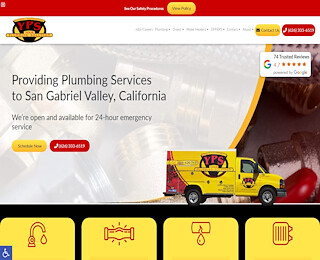 Plumber In Hacienda Heights: Plumbing Tips For Spring Season
Winter causes problems in plumbing systems. Pipes and hoses may begin to develop a crack and start leaking. Drains may also be clogged as well. Before these problems escalate, you should check your plumbing during spring to get it ready for spring and the subsequent seasons.
Here are some spring plumbing tips that will help you identify problems and tell you when to call a plumber in Hacienda Heights.
Kitchen and bathroom plumbing tips
Check faucets for drips and leaks. They can ruin sink fixtures and also promote mold and mildew growth. Get a plumber in Hacienda Heights to fix it immediately.
Also, check the water closet for leaks. Do this by adding food coloring to the tank and place a bowl below. Wait for about thirty minutes. If this colored water enters the bowl, then the toilet has a leak. You can also check if the flush is working well. If it needs to be adjusted or held to have a leveled water flow, then you need to replace some tank parts.
Rotate water supply valves under the water closet and sinks to remove rust, hardened caulk and mineral deposits. Keep soap, dirt, and hair from blocking the drains. A plumber in Hacienda Heights can help you to install drain filters for this.
Heating devices plumbing tips
Drain water from the heater to get rid of the sediments that reside at the heart bottom. The sediments come from corrosion of the internal shell. This also leads to a reduction of effectiveness as well as energy efficiency.
Make sure that your water heater doesn't exceed 120 °F. It should be replaced if it is up to 15 years old. Inspect the washing machine hose and the dishwasher for leaks. You can easily fix these items, as they are cheap.
Be sure to clean the washing machine's lint trap after using it each time. This lint trap holds fabric lint that could clog the drain. Get a plumber in Hacienda Heights to install a trap filter at the drain's hose to make sure that lint doesn't enter the drainage system.
The air conditioner must often be serviced so it will run at optimum efficiency during summer. It will also reduce energy bills.
What to check
Check if trapped frozen water has cracked the supply pipes or hose bibs. Before turning on the hose bib, check if there are leaks and splits. Also, inspect the sumo pump to see if it's working well. Test it by using some buckets of water and pouring it into the pit. If you cant handle it, contact a plumber in Hacienda Heights.
Inspect the exterior drainage parts like gutters, downspouts or yard drains. Make sure that they are clean. You can find more plumbing tips to help you save money on plumbing repairs. Be sure to maintain your plumbing system routinely by inviting a professional plumber to inspect for problems. Such routine checks will help spot problems before they snowball into a bigger problem.
These tips will help improve your knowledge of your plumbing system to keep it running smoothly.
Your Plumbing Solution
626-333-6519
13932 Valley Blvd. Ste. H
La Puente
CA
91746
US