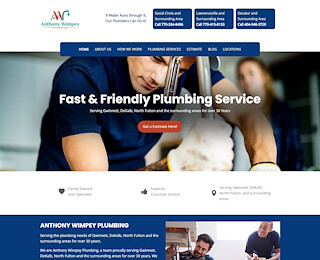 Plumbing emergencies can be a big disruption to your life. Make sure you have the number for an emergency plumber in a secure location that you can find quickly in case of a broken pipe or other urgent matter. If you're looking for a Monroe, Georgia plumber, consider Anthony Wimpey Plumbing.
Anthony Wimpy Plumbing has been serving the needs of Monroe residents and business for more than 30 years and has demonstrated a remarkable commitment to their customers. While they hope you never need the service of an emergency plumber, they stand ready to promptly assist in the event that you do.
Whether you're looking for a plumber to handle the day to day plumbing issues that come up around the home, such as a leaky faucet or the installation of an appliance or something a bit more pressing like fixing a hot water tank that's gone out, you can count on the expert techs from Anthony Wimpey Plumbing. If you need a Monroe, Georgia plumber in the middle of the night, your first call should be to 770-385-5660. They'll get there quickly, diagnose the problem and get it repaired promptly.
If you call Anthony Wimpey Plumbing for emergency service, they won't just tell you they're on their way and leave you standing there. The plumber on the phone will continue to talk to you even after their tech has been dispatched, and will guide you through the steps to get your water shut off so the problem won't get any worse. 
While you're empowered by the phone tech to get things under control, another plumber will be on their way to your home, ready to take control of the situation. Customers really appreciate the commitment that Anthony Wimpey Plumbing provides so you can rest easy knowing help is on the way while you manage the situation at home. Their team is comprised of experts in the field, along with master plumber Anthony Wimpey who brings 30 years of experience to the table. 
You may require the services of a Monroe, Georgia plumber during regular business hours for matters that are not an emergency but still require prompt service. If you've ever dealt with a leaky faucet you know what we're talking about. Few things are more irritating than a dripping faucet that keeps you up at night, drips while you're trying to concentrate or read, and just gets worse with every passing day. When you've finally had enough of trying to turn the faucet to that perfect spot where the drip is not as loud, call Anthony Wimpey Plumbing. 
Visit online at anthonywimpeyplumbing.com and check out their 5-star customer reviews from real locals who are proud to call Anthony Wimpey their plumber. From there, you can fill out a contact form for a free quote or for more personal service call 770-385-5660 and let one of their experts answer your questions.
You'll be glad you called the professional Monroe, Georgia plumber who can take care of your problem and get it done right the first time.