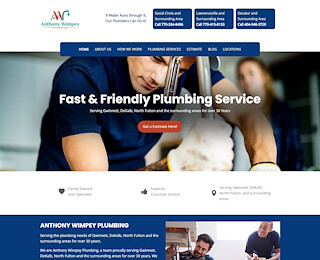 Anthony Wimpey Plumbing provides residential and commercial plumbing services in Lawrenceville. We are committed to providing our customers with the best plumbing services from a well-trained team capable of executing the most complex projects within a short time with little to no interruption to your home or business. So whether it's plumbing installation, maintenance, replacement, or repair service, make sure you come to Anthony Wimpey Plumbing. When you come to us, you'll get a professional plumber that can cover even the most specific plumbing problems.
Who We Are
Anthony Wimpey Plumbing is a local and second-generation family plumbing company serving Lawrenceville for over 30 years. We aim to deliver the highest quality plumbing services in Lawrenceville at reasonable prices. We aren't like other plumbing companies Lawrenceville — we arrive on time and explain costs upfront. Our plumbing service includes the following:
Plumbing Installation Services
We can provide property owners in Lawrenceville with the right plumbing installation service at Anthony Wimpey Plumbing. We try to understand the layout of your home and your personal preference before we even lay our hands on the installation. All these factors make the perfect plumbing system installation for your home. We know what it takes to have a good plumbing system, so we'll go beyond and above to exceed your expectation. So make sure you contact us today if you want quality plumbing installation service in your home.
Plumbing Replacement Services
Plumbing systems have a set amount of time that they can last. Therefore, the plumbing system that you have is going to stop working with time. So, it's always wise for you to replace the plumbing system sooner than later. Sometimes plumbing systems are outdated and can't perform as they used to. Come to Anthony Wimpey Plumbing for quality work if you need the best plumbing system replacement in Lawrenceville.
Fast Plumbing Repairs
We know how tricky a plumbing issue can be at Anthony Wimpey Plumbing. Sometimes, getting the plumbing repair service you're looking for is challenging because a repair is something you need urgently. At Anthony Wimpey Plumbing, we specialize in emergency plumbing, and our plumbers will be there for you whenever you need us. So, if you're ready to fix a leak or get your waste disposal system working like new again, just give us a call.
Why Choose Us?
Are you tired of Lawrenceville plumbing companies that do not show respect for your property or show up on time? Feel the difference when you work with Anthony Wimpey Plumbing. We are committed to providing the highest quality plumbing services and work hard to exceed your expectations.
We never compromise on quality regarding our materials. We will only suggest products that we would recommend to our own homes. We try to make things as simple as possible with flat-fee pricing and easy scheduling, and we back all our work with a customer satisfaction guarantee.' So give us a call today at 770-415-8133 to schedule a plumbing service in Lawrenceville. We can't wait to serve you!