Are you looking for Conyers plumbing services to answer your questions about installing a garbage disposal? Look no further!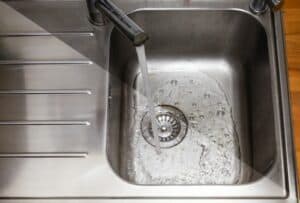 Qualified Conyers plumbing services can put your mind at ease when looking to install a new garbage disposal. That peace of mind matters; after all, the garbage disposal is the unsung hero of the kitchen. It can save your pipes and stop unnecessary blockages. Most often, the disposal gets little to no recognition until it stops working. That is when you realize how much you rely on that little addition to your kitchen sink.
What Garbage Disposal Best Meets Your Plumbing Service Needs in Conyers?
The first step is to decide on the brand of garbage disposal. We recommend doing some research and considering at least a few options. A brand of disposal that could save you a few bucks up front might end up costing you in the long run. You can get a good idea of what some of your options are in this article from plumbing.about.com.
Measure the Available Space for Your Garbage Disposal Plumbing Service
Before you decide on your garbage disposal unit, measure the space underneath your sink. Do not assume that all units will be the same size or depth. If you are replacing a garbage disposal, start with those dimensions of the old one. Measure your entire available space to be sure the new garbage disposal unit will fit.
Decide How Much Power Your Plumbing Service Will Need
Consider the available horsepower of the disposal. Typically, the lower the horsepower, the smaller the size of the unit and the lower the cost. But smaller does not always mean better. Smaller units are usually louder and require extra water to help the food flow through the system. If you intend to put your disposal to work, we recommend a disposal of at least ¾ horsepower or higher. They may cost a little more, but they tend to jam less often and often have longer warranties.
Are Your Plumbing Services Part of a Septic System?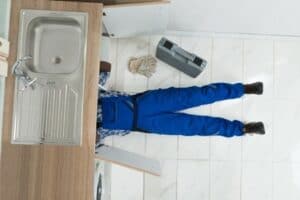 Garbage disposals were once a big no-no for septic systems. But as long as you are careful, there is no reason you can't have both. If your plumbing is part of a septic system, there are some important factors to take into account before adding a garbage disposal.
Regular maintenance of your tank and special additives will help the solid particles that pass through your disposal break down properly within your septic system. Be sure to ask if you have any questions before adding products to your septic tank. Some additives are harmful to the bacteria within the septic system and can ruin the balance necessary to keep it working properly.
What Should You Expect From a Conyers Plumbing Service Installation Company?
If you decide to use an Conyers plumbing service to install a garbage disposal, here are some things you should make sure they offer:
• Ensure they have active licensure and insurance within the state of Georgia. This is the most important point!
• Get an estimate. It is often a good idea to get at least a few quotes to compare prices. But don't always assume the lowest price is your best choice.
• Get references and recommendations from neighbors and local customers. They will be your best resource.
• Check to see what warranty or guarantees come with the service. It may be worth a little more money to get coverage for your new unit for a longer period.
When Should You Call The Pros For Your Conyers Plumbing Services?
Installing a garbage disposal can be a DIY project if you are confident in your handyman skills. But why take the risk of leaky gaskets and loose mounting brackets? Whether it's mismatched drain lines or not enough plumber's putty between the gasket and the sink flange, one misstep in installation can lead to disaster. Plus, as soon as electrical wires begin getting close to the water lines, it may be time to consider calling in the pros.
Are you looking to install a garbage disposal or need other plumbing services in the Conyers area? Give us a call at 770-385-5660 for more information about what Anthony Wimpey Plumbing can do for you.