Try these garbage disposal repair tips from Anthony Wimpey Plumbing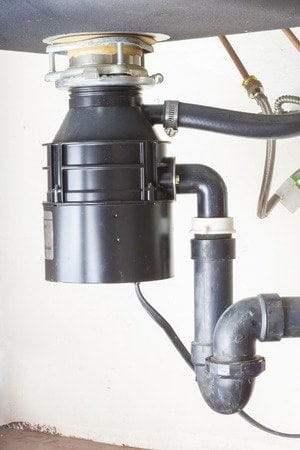 Every home needs a good garbage disposal unit in the kitchen. It's hard to think back to a time before these devices were under most kitchen sinks in America. We have all come to rely on garbage disposals to provide a convenient method of disposing of kitchen scraps. However, even the biggest and best eventually fail. That's when it's time to call a pro for garbage disposal repair.
If you are a homeowner in Conyers in need of garbage disposal repair, you might worry about how much time and money the repair will cost. How soon can you get a plumber to come to your house? Will their estimate be accurate? What if they say they have to replace your garbage disposal? Perhaps these questions are why you haven't yet called a plumber for help.
It's time to stop worrying about those unknowns. Our plumbing professionals have some tips that will put your mind at ease. There's no reason to sweat about the details of your garbage disposal repair – leave that to the plumber. Here are some tips from the pros about garbage disposal repairs in Conyers.
You Might Be Able to Fix It Yourself
The most obvious thing to check first is whether there is something wedged down in the grinding blades. Make sure the garbage disposal switch is OFF. Then, open the rubber collar with one hand and use the other to shine a flashlight down the drain. If you see a fork or jar lid in the disposal, remove it if you can. If there's a serious jam in there, it's not worth the risk to try to pry it out yourself. Instead, call a plumber to help.
There's Nothing in the Disposal, and It Hums
Many people don't know that most garbage disposals have reset buttons. If your disposal makes a humming noise but does not grind food scraps, the reset button might fix the problem. First, make sure the disposal switch is OFF. Then, locate a little button on the side of the disposal. It's probably red or black. This is the reset button. Gently press it, then turn on the water, followed by the disposal.
That Didn't Work – What Next?
If you tried the first two tips and nothing has worked, it's time to call a local plumber. He or she will be able to diagnose the problem and recommend the best course of action. The bad news is that just like any other appliance, garbage disposals will eventually go bad. This is most often the result of dull blades or a burned out motor. If your garbage disposal is 10 or more years old, it may just be time for a replacement.
What If My Sink is Full of Water and Won't Drain?
This is another good reason to call a plumber to fix the problem. The chances are good that your garbage disposal has severe clogs and just needs all that debris cleaned out. After removing all that muck, the sink may drain right away. If not, let a professional plumber drain the sink through the pipe and address the failing garbage disposal. That's one potential mess you don't want to handle yourself.
Who Can Fix My Conyers Garbage Disposal?
Homeowners in Conyers and neighboring towns trust Anthony Wimpey Plumbing for their diverse plumbing needs. We repair and replace garbage disposals daily. Our whole crew of plumbing professionals has the skills and experience necessary to handle any kitchen plumbing problem you are facing.
We want to be your garbage disposal repair source in Conyers. Anthony Wimpey Plumbing delivers expert plumbing service and unmatched customer satisfaction. You can call Anthony Wimpey Plumbing at 770-809-6556, day or night.