What will a water line repair in Lawrenceville mean for your house and property?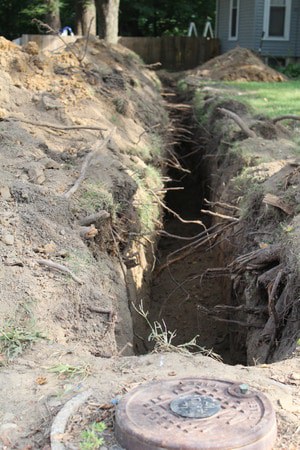 Water line repairs can be a worst nightmare come true for Lawrenceville homeowners. When a disaster is brewing underneath your yard, you need fast and reliable help. How do you know who to call when you need a water line repair handled right away? The answer depends on your water source, whether you own the property, and many other factors.
Your water line is what supplies your home with clean water, day in and day out. You can't afford to let a problem with your water supply go unchecked. Homeowners in Lawrenceville deserve the best service for their water line repairs. Here is what Anthony Wimpey Plumbing clients can expect during their water line repair appointment.
It Starts With a Complete Inspection
Just like almost all other home repairs, a water line service appointment starts with a full inspection. We use special equipment to pinpoint the damaged pipes and assess the extent of the damage. Once we understand what we are up against, we can formulate a plan for fast and effective repair.
There Will Be Holes
Water lines are always buried. That means we will have to dig at least one hole in your yard to access the damaged pipe. Wherever you have noticed excess dampness or standing water in your yard, we will probably have to dig a hole in that spot. These are telltale signs of damaged water lines.
The Anthony Wimpey team will work to provide total customer satisfaction. That commitment includes dedicating extra time to restore your lawn to the best of our ability. We dig up sod and carefully set it aside in the hopes of preserving it for replanting once your repairs are complete. Our technicians will do their best to leave your yard looking the best we can.
Repairing Your Water Line Helps Your Yard
Letting a hole in your water line go unchecked can cause drastic erosion in your yard. The extra water in your soil will deprive your plants and grass of vital nutrients. Your lawn could become unusable as the ground becomes saturated and unstable. The moisture could even damage your home's foundation, crack your driveway, and take down full-grown trees. As you can see, repairing your water line does much more than just secure your water supply.
One or Two Days of Repairs
Every water line repair is unique. The duration of your repairs depends on what material your water lines consist of and how extensive the damage is. Reduced availability of necessary repair items can cause a delay in rare circumstances. The typical water line repair in Lawrenceville usually takes just a day or two.
Repaired Water Lines Improve Water Quality and Pressure
Having a hole in your water line can make it hard to maintain good water pressure coming into your home. That hole also makes it easy to introduce dirt and toxins into your water supply. Once we patch up that hole, you will notice an improvement in your home's clean water.
Get Your Lawrenceville Water Line Repaired by the Best
Anthony Wimpey Plumbing provides customer service and expert workmanship you can count on. Our Lawrenceville clients have come to rely on us for a wide range of plumbing needs, from replacing toilet valves to repairing water lines. When you choose Anthony Wimpey, you select the best in the business.
When you are facing a water line problem at your Lawrenceville home, remember Anthony Wimpey's sterling reputation. Ask your friends and family about their experiences with us. We know you won't find better customer service in the region. Call us at 770-809-6556 to get your water line repaired the right way.