Pro tips for tackling your Monroe bathroom faucet repairs.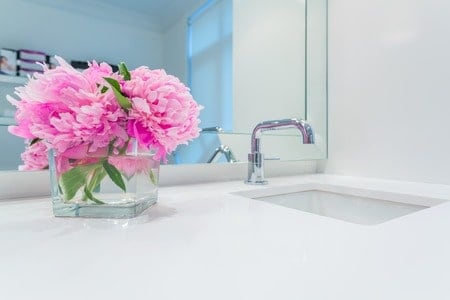 Discovering a busted bathroom faucet can instantly ruin your day. Bathroom faucet repairs can be tricky, depending on several factors. The type of faucet, the age of the plumbing system, and even the quality of your water can affect the frequency and severity of necessary fixture repairs. But few people have the time to wait around for hours for a plumber to show up. Many folks don't have the appropriate tools on hand to perform proper plumbing repairs themselves. What's a frustrated Monroe homeowner to do?
It might be tempting to DIY your bathroom faucet repair. After all, you and your family already have busy schedules to keep. Who can work in a whole day off waiting for a plumber to fix a leaky faucet? What if the plumber can't finish the job in one day? What if they have to order parts and have them shipped in from who knows where? How hard can it possibly be to stop a little leak?
We have seen plenty of botched DIY plumbing projects over the years. Before you break out your toolbox, please check out our pro tips on bathroom faucet repairs in Monroe. These tidbits of advice could save you a lot of time and money down the road.
The Source of a Leak Is Not Always Obvious
The first step in fixing a leaky faucet is figuring out what is causing the leak. It's not always obvious! We don't recommend tearing apart a faucet unless you have experience with faucet repairs. Trial and error repair is the most common reason for faucet replacements. Leave those bathroom fixture repairs and replacements to the professionals.
Obtaining the Right Parts Is Not Always Easy
Each faucet model and manufacturer requires different seals, nuts, bolts, and other parts to perform repairs. It's almost never obvious to laypeople what parts they need to get. Buying those specific parts is often more complicated than running down to the hardware store. This is another good reason to leave your bathroom faucet repairs to the professionals.
A Thorough Inspection Can Reveal Emerging Problems
The older your home is, the more likely you will have to do more than just repair the bathroom faucet. Years of mineral deposits from hard water will take a toll on your pipes and appliances. Decades-old pipes will require replacement with new ones made of modern materials. An experienced plumber can recommend practical ways to improve your home's plumbing system.
Selecting the Right Plumber for Your Bathroom Faucet Repair
People in the Monroe area need a good plumber they can trust for all their plumbing issues. The Anthony Wimpey Plumbing crew has the training and expertise to handle your bathroom faucet repair with ease. We strive to provide the most reliable plumbing services in Monroe and the surrounding areas.
We also offer inspections and maintenance plans to help our clients keep their plumbing systems in great shape. After all, the best offense is a good defense. So when you schedule your bathroom faucet repair appointment with Anthony Wimpey Plumbing, be sure to request an inspection of your entire system. All the ways you could quickly improve your plumbing performance and efficiency just might surprise you!
Discover the Anthony Wimpey Difference
Our technicians see just about everything when it comes to plumbing problems. We urge you to save yourself time, money, and frustration by calling a professional for your plumbing needs. For reliable bathroom faucet repair, Monroe homeowners call Anthony Wimpey Plumbing. Give us a ring at 770-809-6556, day or night, for your plumbing needs.