Sewer line repair doesn't have to scare you away! Know what to expect before calling your local Lawrenceville Plumbing Company.
Sewer line repair is a situation everyone wants handled immediately, with as little residual damage as possible. Unfortunately, sewer pipes do not last forever. Sometimes age is the culprit, and sometimes there is an external factor. Either way, when your sewer lines are not functioning properly, you must act quickly. Here are some key things to know before calling in the experts.
Is Sewer Line Repair an Emergency Procedure?
The answer to this question is both yes and no. Yes, you must address the problem quickly, but don't feel pressured to go with the first person who answers your call. It is still okay to consider your options and talk to a few different companies before deciding how best to proceed.
Get quotes and discuss the options. Replacing the whole sewer line may not be necessary. Perhaps repairing the broken sewer line will be enough to solve the problem. Be sure to get several opinions from reputable companies so you can make the best call. Don't feel cornered into making the wrong decision!
What Are Some Options When It Comes to Repairing or Replacing a Sewer Line?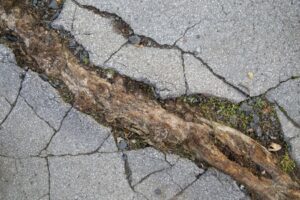 The biggest concern with repairing or replacing a sewer line is usually how invasive the procedure has to be. We envision huge trenches uprooting our front porch and driveways. But it doesn't have to be that way. Here are some things to talk over with your plumbing professionals before they start to dig:
Where is the exact location of the problem? If your plumbing service can narrow down the location to a precise spot, they should be able to fix it without disrupting the rest of your property.
Are there several areas that need repair? If your contractor or plumbing specialist is not sure of only one problem area, it may be beneficial to consider replacing the entire sewer line. Sometimes total replacement is more economical and will prevent other problems later on.
Get a written quote for both a sewer line repair as well as a replacement. Know the total cost of each option before making your final decision.
Is trenchless sewer line repair or replacement an option? Many companies offer this less invasive procedure. It may not always be a cheaper option, but it could save your property from significant disruption in the process.
If tree roots seem to be part of the problem, talk to your plumbing specialist about adding a barrier to your new pipes to prevent the problem from returning. For more information on preventing roots from damaging your pipes, click here for some great advice from www.thisoldhouse.com.
Will My Homeowners Insurance Help Cover The Cost of Sewer Line Repairs in Lawrenceville?
Unfortunately, it is very hard to determine the source or cause of a sewer line issue. For that reason, homeowners insurance policies will rarely cover the cost of replacement or repair. However, some insurance companies offer additional plans intended to help replace damaged personal items. If you have a protection plan or an extra endorsement with your insurance provider, be sure to find out what that covers.
Will Lawrenceville Laws Affect Getting a Sewer Line Repaired?
Local digging laws will vary by location. Be sure your plumbing professional meets licensing requirements and knows the ins and outs of your local ordinances before moving forward. Some areas require permits before digging and an inspection before completion. It is important that whoever you are trusting to repair or replace your sewer line is familiar with your local ordinances.
Is Your Sewer Line Repair Project Inspiring You to Consider Remodeling? 
While your sewer line is getting a makeover, you can check out some of the best remodeling and home improvement ideas in the Atlanta area! Visit the 20th Annual Atlanta Home Show for some fresh inspiration.
Are you looking for options when it comes to getting your sewer line repaired or replaced? Look no further! We can get you the answers you need. Contact Anthony Wimpey Plumbing today or give us a call at 770-385-5660.