Here's what should you expect out of your water heater replacement.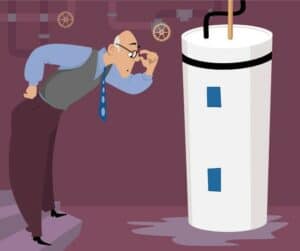 A faulty unit demands an immediate water heater replacement. Snellville families are busy with work, school, and sports schedules. You don't have days and days to wait for someone to come out and replace your water heater. Life keeps rolling on whether you're taking hot or cold showers. But those days get a much more pleasant start when you can enjoy a steamy shower in the morning!
So time has taken its toll on your water heater, and now it's time for a new one. How long does the purchase and installation process take? Should you try to do it yourself? What will that cost? How do you find the right plumber for the job? Here's what you need to know about your upcoming water heater replacement in Snellville.
The Water Heater Replacement Process
Unless an unforeseen circumstance pops up, replacing a water heater is almost always a quick process. Your plumber will start by draining, disconnecting, and hauling out your old tank. A little cleaning and setup work may be necessary to prepare the area for the new water tank. Then, installation is the same as the removal process but in reverse: the new water heater goes into place, gets hooked up and filled.
If you have invested in a new traditional water heater, it will take some time to warm up all that water. Plan on waiting overnight for the water to reach the right temperature. If you upgraded to a new tankless water heater, you will have an endless supply of hot water available right away. Either way, you should notice an immediate reduction in your utility costs due to the high-efficiency ratings on all new water heaters.
Extend the Life of Your New Water Heater
Want to avoid having to replace your water heater in a few years? Of course you do. There are a few simple things you can do to make sure your new tank lasts a decade or more. Start by scheduling a few hours to drain and flush your water heater once every year. Flushing prevents sediments from collecting in the tank, which can reduce efficiency and force the heating element to work harder.  
Another simple tip is to encase your tank in a special insulated wrap. This product prevents heat loss and reduces the strain put on the heating element. An added bonus is that this small investment can reduce your utility bills even further, month after month. And if your electricity goes out, your tank full of hot water will stay hot for much longer than it would without the layer of insulation.
Seems Simple – Should You DIY Your Water Heater Replacement?
When it comes to electrical and plumbing systems, few experts would recommend that homeowners attempt those projects themselves. There are so many things that could go wrong during a water heater removal or installation. It takes one silly mistake, and then you have a leaking tank or a stripped nut or a broken heating element. Attempting a DIY water heater installation just isn't worth the risk.
Find Your Snellville Plumber
Not sure who to turn to for help with your water heater replacement? For more than 30 years, Anthony Wimpey Plumbing has provided the most reliable plumbing service in Snellville. And that high standard of customer care is clear in our online ratings and customer reviews. We are proud of our reputation for proving outstanding service and top notch workmanship.
Your local plumbing pros are ready to help you resolve your water heater problem. Your neighbors in Snellville count on us for all their plumbing projects, and you can too. Call Anthony Wimpey Plumbing at 770-809-6556 to schedule your water heater replacement at your Snellville home.