Need water line repairs in Lawrenceville? How to hire the best  plumbers around.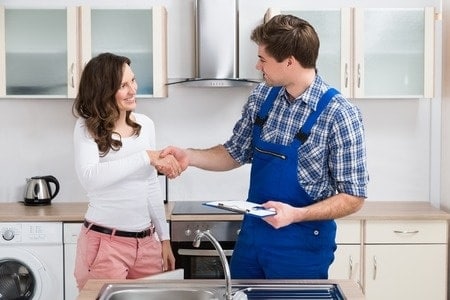 Homeowners experience their fair share of plumbing woes, and if you need water line repairs in Lawrenceville, you're facing one right now. All kinds of conditions can lead to water line breaks – earthquakes, construction accidents and even robust tree roots can blast through old water lines. Freezing temperatures are not a big concern in our region, but frozen water pipes burst every winter. Frost heave can displace and smash underground pipes, too.
Calling someone for help with a water line repair means you are already having a bad day. Maybe your basement just flooded. Perhaps an underground waterfall is washing away all your landscaping. Whatever is going on, you need help, and you need it now. So how do you figure out whom to call for water line repairs at your Lawrenceville home?
You need someone who has the training and experience to handle a broken water line. You want someone who isn't going to take advantage of your dire situation and charge you an arm and a leg. Maybe most importantly, you need someone who can help on extremely short notice. Sounds like a tall order, but it's possible. Check out these three tips for hiring the best plumber for water line repair in Lawrenceville.
How to Find a Great Lawrenceville Plumber for your Water Line Repair
Ask Google what to do. Google offers many tools to help all kinds of businesses stand out. A simple search for Lawrenceville plumbers will give you a map showing all their locations. You can click a plumber's location and see a preview of the basics, such as business hours, contact information, and reviews left by past clients. Browse some of these details to find a few plumbers in your area who have passed muster with other customers.

Pick a few top plumbers and visit their websites. In your situation, the first thing to research is whether these companies offer emergency service. Not all plumbers are willing to work nights, weekends, or holidays! After this quick website perusal, your list should be rather short.

Dig a little deeper on a handful of local plumbers. Search for them on review sites like Yelp or Angie's List. And don't just look for the five-star ratings. Read some reviews to get a broader insight into how well these plumbers meet their clients' expectations. As patterns emerge, you will get a stronger feeling for which plumber is the right choice for you.
Call and Ask for Emergency Water Line Service
When you call your selected plumber, give as much detail as possible about your water line problem. They will probably ask when you first noticed the water leak. Were you able to turn off the water supply to the house? Where in the house or yard did this happen? Answer all questions to the best of your ability. This will allow the plumber to bring all the equipment and tools necessary to handle your water line.
What to Expect from Emergency Plumbing Services
Your plumber's response time will vary according to work load, traffic, staffing, and whether any other emergencies are ahead of you. Seeing a plumber pull into your driveway within a few hours is a reasonable expectation. He or she will first ask to see the damaged area to assess the situation. At that point, work can begin.
Water Line Repairs in Lawrenceville
These three steps can occur in any order. It simply depends on what the situation requires. For damaged water lines, water removal and shut-off are necessary to fix the pipe. A professional plumber should be willing to help you clean up the affected area after completing the repair and before leaving the work site.
If you find yourself in need of water line repairs in Lawrenceville? Call Anthony Wimpey Plumbing at 678-726-1493. We are ready to help you handle your water line repair and any other plumbing service your Lawrenceville home requires.