Tips from the pros on deciding whether to call a 24-hour plumber.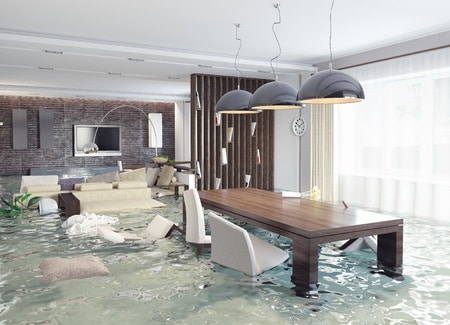 Plumbers in Madison deal with a wide range of plumbing problems, but not all of them are emergencies that require a call to a 24-hour plumber. There are varying levels of plumbing issues, and homeowners and plumbers tend to hold differing opinions on what constitutes an actual emergency. For example, a stopped up bathtub is disgusting and inconvenient, but it isn't as troubling or dangerous as a flooded basement.
Plumbers and other service providers often charge premium rates for service calls during nights, weekends and holidays. Everybody is looking for more ways to save a few bucks these days. It's natural to want to avoid making that pricey call to the emergency plumber. So how can you tell whether you need to call a 24-hour plumber to your Madison home? Here are some pro tips about plumbing emergencies from Anthony Wimpey Plumbing.
Is Any Part of Your Home Flooding?
The most obvious reason you should call a 24-hour plumber is flooding in any area of your home. The concern about flooding in a home goes far beyond the inconvenient mess. If all that water isn't removed right away in the correct manner, dangerous mold can grow inside the house. Mold problems can cause serious health problems and can even lead to death.
Another possible consequence of flooding is structural damage to wood and concrete elements of your home. Weakened wall studs or foundational concrete will lead to costly repair bills from your general contractor. We haven't even started to talk about possible water damage to your furniture, electronics, cabinets, appliances and more. As you can imagine, the cost of your house flood can climb quickly.
A third danger related to flooding is the possibility of electrocution. It's crucial you turn off the electricity to your home before attempting to clean up any standing water. These are three vital reasons to call a professional plumber right away if you have an uncontrolled water leak flooding your home.
Is Your Sewer Backed Up?
Blocked sewage pipes are another common source of health risks in the home. Raw sewage seeping up into your basement, bathtub or toilet is adequate cause to call your 24-hour plumber. We know you will probably attempt to clear your tub or toilet out with a plunger or hardware store product like Drano. But in many cases, the only remedy for a blocked sewage line is to snake it out with professional equipment.
Who Wants to Wait Three Days for Hot Water?
Modern families expect to have consistent access to hot water. If your water heater breaks down, you don't want to wait until Monday for your next hot shower. This is another excellent reason to call your 24-hour plumber for emergency service. The good news is that a qualified plumber will be able to get your hot water flowing again quickly.
How Do You Cook Without Your Kitchen Sink?
Any plumbing issue that prevents you from completing the basic functions of life can constitute an emergency. For example, what do you do when your kitchen sink's clog will not clear up? Even worse, what if you only have one kitchen sink and the garbage disposal dies for good? It's time to call an emergency plumber for help.
Anthony Wimpey is Your 24-Hour Plumber in Madison
We hope you never face a plumbing emergency. But if that day does arrive that you need a 24-hour plumber, call Anthony Wimpey Plumbing at 770-809-6556. We are available 24 hours a day to address all your plumbing emergencies in Madison, Georgia. We work hard to maintain a solid reputation for outstanding customer service. Our dedicated team looks forward to serving your family's plumbing needs.