Are you a DIYer when it comes to bathroom faucet repair in Conyers? Here's what plumbers in Conyers wish you knew about doing those repairs yourself.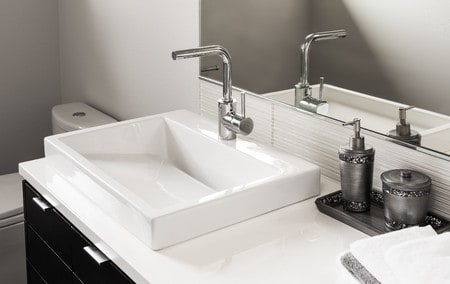 A lot of guys (and gals) believe owning a wrench is all you need to tackle any bathroom faucet repair in Conyers. A lot of plumbers wish you knew a little more about what it takes to fix a bathroom faucet the right way.
Let's Talk About Faucet Repairs in the Bathroom
It's easy to think a bathroom faucet repair is always an easy fix. Some people even feel embarrassed about calling a plumber for a leaky faucet. It's the training wheels of plumbing repair, right? Not so fast though. There might be real reasons you should leave these repairs to the experts instead of tackling them yourself.
The first thing your plumber knows that you might not is there are four different kinds of faucets. Before you can begin a repair, you need to know which one you have in your bathroom. Here's a quick rundown on the four kinds of faucets:
Ball: the ball type was the first washerless valve. You know you have a ball tap if there is one handle for both hot and cold water and the handle moves over a ball-shaped cap over the faucet base.
Disc: The disc faucet is also washerless. Disc faucets have a single handle, like the ball type of faucet, but the base is wider on a disc type. These discs mix the hot and cold water inside a pressure balance cartridge.
Compression: The compression faucet is the original indoor plumbing faucet. You've got two handles you tighten or loosen to control the hot or cold water. Many older homes have compression valves. They are the least expensive type of faucet, but they are also the most likely to need repair.
Cartridge: A single handle cartridge faucet turns on with an up and down action rather than side-to-side. The movement is smooth and easy. The side-to-side motion controls the temperature of the water. A cartridge faucet may use two handles. You might have trouble seeing any difference from a compression faucet, but you'll feel it in the smoother movement. A half-turn is all it takes to turn it on.
With that little primer on bathroom faucets, you might feel ready to take on the repair. Let's discuss just a bit longer first.
Are Bathroom Faucet Repairs So Tricky I Should Call a Conyers Plumber?
There are a lot of things that can cause damage to your bathroom faucets. Daily wear and tear is a prime contributor. But did you know things like hard water can also cause problems leading to faucet repair? Calcium, magnesium and other minerals in your water can deteriorate your plumbing. Do you see a white, crusty buildup around the faucet? That's called limescale, and it's a sign of hard water issues. Hard water problems are just one problem you could have built up with your plumbing. You may not notice them, but a professional plumber will.
When you hire an experienced plumber, he will recognize signs like this and know if you have more than just a faucet problem. A professional will notice limescale, rust and other signs that your plumbing problems could be bigger than a simple fix. He can recommend a water softener to get rid of hard water problems. A plumber can also diagnose any other unseen problems.
Make arrangements to take care of that bathroom faucet repair, but don't forget to make plans to get out of the house and have some fun, too. Reserve your tickets to see Peter Noone and Herman's Hermits at City Winery on Oct. 19. Peter Noone was the lead singer of the original band and now sings those old favorites with a new group of voices. It's sure to be a nostalgic evening.
Call for Bathroom Faucet Repair in Conyers
Don't mess around with your plumbing repairs. Hiring a professional for repairs, replacements and remodels saves you time and trouble. In the long run, it can save you money when you avoid bigger problems. Make sure you get your bathroom faucet repaired by a local, Conyers expert today. Just click here to find out how soon we can solve your water problems.