Buford plumber, Anthony Wimpey Plumbing, is a top plumber you can call for superior plumbing services. If you live in Buford and need plumbing services, Anthony Wimpey Plumbing is here to help. We know the plumbing Buford wants is friendly, fast, and affordable. So, we offer a full line of plumbing services at reasonable rates. After over 30 years in business, we have the experience to do the job and a reputation for doing the job right the first time.
24 Hour Emergency Plumbing Service in Buford, Georgia
If you live in Buford, GA, and need a reliable plumber fast, we have you covered. Dealing with a plumbing emergency and the water damage that comes with it can frazzle people. But call a plumber from Anthony Wimpey Plumbing for a calm presence when your plumbing is driving you crazy.
Our qualified Buford emergency plumbers are ready to take your call 24/7. When you have a plumbing emergency, call us at 770-415-8133 or use our online contact form for fast, expert service from our plumbers in Buford, GA.
There are different types of Plumbing emergencies; addressing them as quickly as possible is critical to prevent further damage. Burst pipes cause massive amounts of water damage in a hurry. Water damage left damp will grow mold, causing untold health and property damage. 
A sewer line blockage can threaten the safety and health of your loved ones when sewage spills into your home or business. Our qualified plumbers offer expert service in Buford and nearby areas. We have the tools, equipment, and expertise to solve plumbing issues. 
Our Local Plumbing Services for Buford, GA
If you live in Buford and need plumbing services, Anthony Wimpey Plumbing is here to help. We know the plumbing Buford wants is friendly, fast, and affordable. So, we offer a full line of plumbing services at reasonable rates. After over 30 years in business, we have the experience to do the job and a reputation for doing the job right the first time.
Pipe Leaks
Water Main Repair and Replace Service
Drain Cleaning service
Sewer Line Repair 
Gas Line Repair and Replace
Whole Home Re-piping
Back-flow Devices
Video Sewer Inspection Services
Tank Water Heater Repair and Replacement Services
Tankless Water Heater Repair and Replacement Services
Shower Repair Services
Bathroom Plumbing Service
Kitchen Plumbing Service
Toilet Repair and Replacement services
Faucet Repair and Replace
Garbage Disposal Repair and Replacement Services
Water Filtration
Copper Pipe Repair Services
Leak Detection Systems
How To Spot Leaks And Prevent Water Damage
Read our press release where Anthony Wimpey Plumbing Reveals How To Spot Plumbing Problems And When To Call a Lawrenceville Plumber. Anthony Wimpey Plumbing Helps Homeowners Spot Leaks And Avoid Costly Repairs. If you spot a water line or plumbing leak, the good news is that Anthony Wimpey Plumbing Offers Affordable Leak Detection and Repair Services in Gwinnett County.
Services for Water Heaters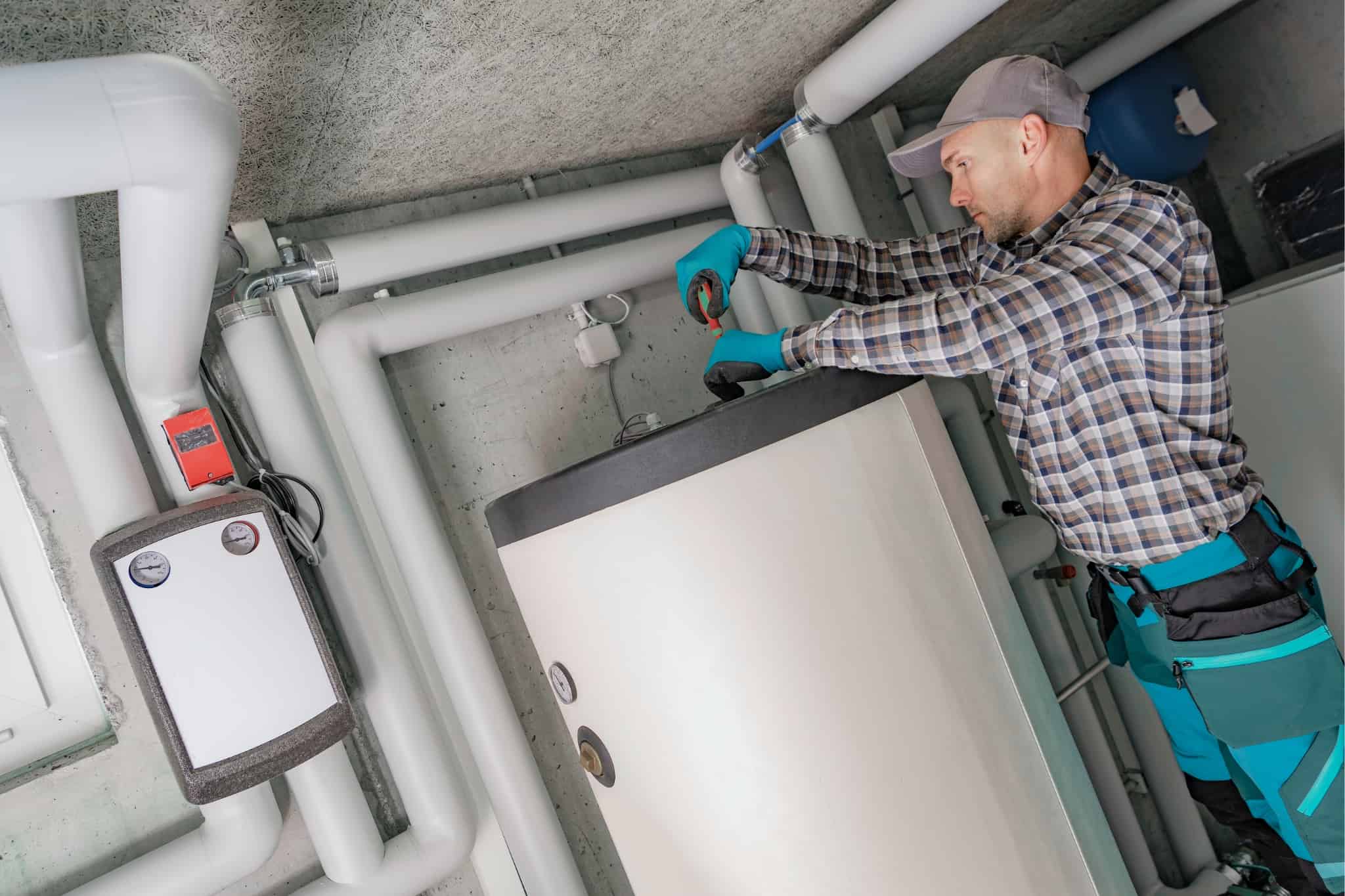 When it is time to replace an old water heater or add a new one, you can count on our Buford plumbers to complete the installation. For an expert plumber, call on Anthony Wimpey Plumbing. We offer installation services and repairs for tank and tankless water heating systems. Let us help you find your home or business's best water heating unit. Ask us about the cleaning and maintenance tasks essential for water heaters to last for many years. 
Now is a great time to learn more about water heater care and maintenance from the water heater pros, Anthony Wimpey Plumbing. Read our recent press releases to find out how With Annual Maintenance Home Water Heaters Can Last 20 to 25 Years! In addition, Anthony Wimpey Plumbing in Lawrenceville Reveals Signs Indicating a Water Heater Replacement Is Needed. And please, read more to check out Lawrenceville, GA Plumbing Service Discusses Water Heater Repair Options.
Work with our plumbing contractors when you need sewer cleaning, sewer line repairs, or sewer line replacement services. In Buford, GA, Anthony Wimpey Plumbing is the affordable plumber near me for all your plumbing needs.

Learn more about 
How Our Buford Plumbing Service Works
1. CONTACT US TO SCHEDULE YOUR SERVICE
Buford residents can contact us through our online contact form or call us at 770-415-8133 to request an appointment for a local plumbing service.
2. GET REPAIR OPTIONS
Anthony Wimpey Plumbing has the best plumbers in the area. When we come to your home, we inspect and diagnose the problem quickly and thoroughly explain the issue. Then, we will give you the most affordable options for your plumbing system. You get a straightforward explanation and pricing for all the options.
On the day of the service, our plumber will:
Lay down drop cloths and cover your shoes to protect your home.

Service your plumbing needs. If we do not fix it, we will keep returning until we do. If water runs through it, our plumbers can fix it.

Leave your home in the same condition we found, if not better.
3. FOLLOW UP AND GET FEEDBACK

We love customer feedback. So, after your plumbing service, we will follow up with you to see how well we did our job. Many of our customers review us. Hear what our customers have to say about us in their reviews.

At Anthony Wimpey Plumbing, we understand that plumbing problems always happen. Our team of expert plumbers is available to provide fast and friendly plumbing services in Gwinnett and surrounding areas. We take pride in providing high-quality plumbing services, regardless of the job size. We provide free quotes and estimates upon request, and our clients appreciate our competitive, affordable prices.
Our comprehensive plumbing services include clogged toilet repair, drain cleaning, and re-piping to replace outdated polybutylene pipes. We also offer installation services for tankless water heaters, tank water heaters, garbage disposals, shower valves, faucets, sinks, and toilets. Our team is also skilled in fixture repair service, water heater repair service, toilet installation services, and drain system services.
As a local plumbing company, we are passionate about helping residents in their homes across Gwinnett with their plumbing needs. We have served the Gwinnett County area for over thirty years and have developed a reputation as a trustworthy plumbing company. Our customer referrals are the foundation of our business, and we are committed to maintaining the highest industry standards and satisfying our customers.
Contact Plumber Near Me, Anthony Wimpey Plumbing, For Speedy Service
At Anthony Wimpey Plumbing, we provide the highest quality plumbing service from the best crew. Our plumbing professionals are about outstanding customer service and superior work quality. We are a local family-run plumbing services company, and we pride ourselves on treating our clients respectfully and arriving on time.
Our service area includes Gwinnett County, Buford, Duluth, Lawrenceville, Norcross, Peachtree Corners, Snellville, and Suwanee. We are the top choice for plumbing services in surrounding Gwinnett areas, from Berkley Lake to Dacula.
We offer residential and commercial plumbing services, including repairs. Please get in touch with us immediately if you have plumbing issues like leaking water heaters or clogged drains. Our emergency services include sewer, water heater, and sump pump repair. We also provide Buford leak detection, fixture replacement, drain cleaning, and water line repair.
If you need plumbing repair, replacement, or installation services, please get in touch with Anthony Wimpey Plumbing today. Our skilled plumbers will visit your home or business at your convenience. We strive to solve your plumbing problems as soon as possible and often provide same-day services. You can reach us at 770-415-8133. We look forward to working with you in Buford and throughout Gwinnett County.