Looking for a plumber near Gwinnett County? We are a top plumber in Lawrenceville, GA, serving the whole Gwinnett area. Anthony Wimpey Plumbing is the best Gwinnett area plumber. Plumbing problems can happen anytime, leaving you with a mess and potentially expensive repairs. Whether you need a simple fix or a complete plumbing overhaul, having a reliable plumbing service in your corner is essential. This blog post will explore various plumbing services you should know to maintain a leak-free home. From installation to repairs and maintenance, we have you covered at Anthony Wimpey Plumbing.
Plumbing Services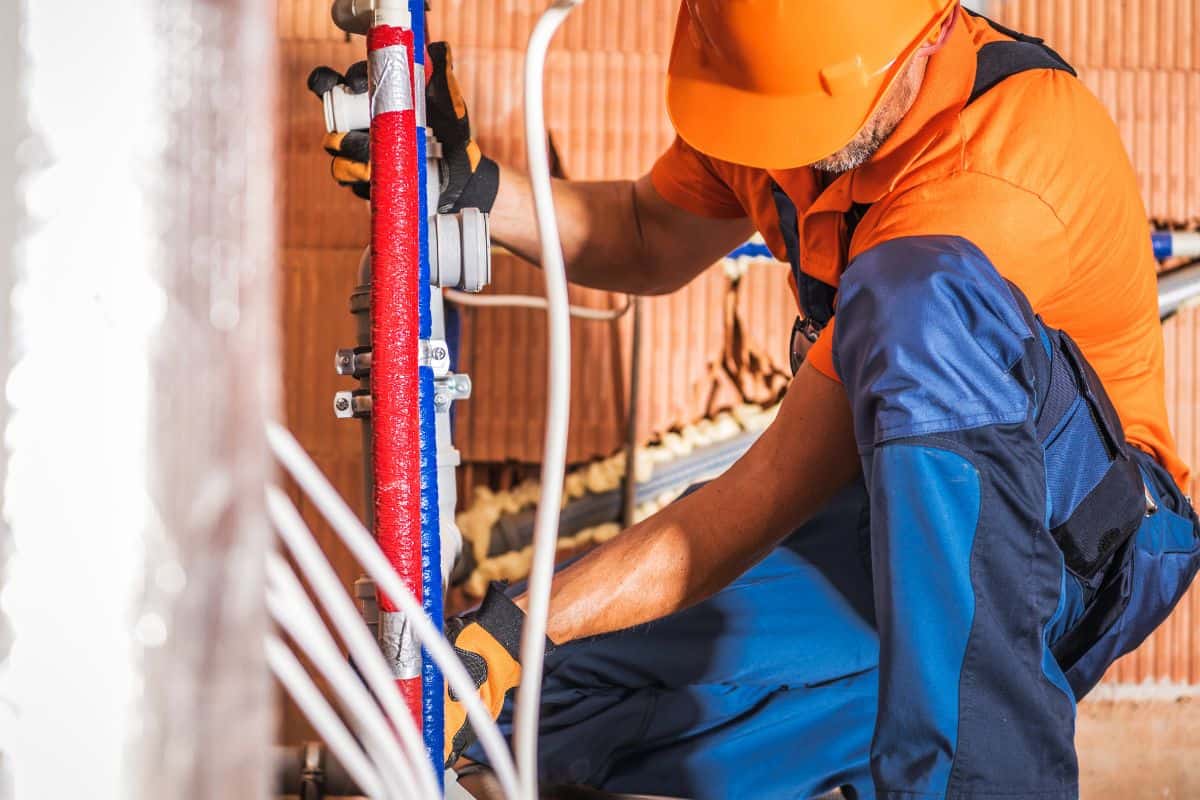 We are a local plumbing company with over 30 years of loyal customers in Gwinnett County. We provide a comprehensive menu of plumbing services. Our local plumbing company can tackle any plumbing problem, from drain cleaning to sump pump repair to leak detection. Our plumbing services include septic tank services, installation of water heaters, and many other home plumbing repair services. We are the plumbing company to call for plumbing repair, replacement, and installation. Please call us for residential and commercial plumbing services.
Toilet Repair Services
Do you need toilet repair? Toilets are one of the most typical sources of household plumbing problems. One malfunctioning component in the operation of a toilet might cause problems for the entire system, causing trouble for you. If your toilet is not working correctly, you should check the floor for water. If you notice any, use towels and mops to dry the water quickly to prevent floor damage. A malfunctioning toilet can cause water waste and unpleasant odors. We can diagnose and repair various toilet issues, such as clogs, leaks, and weak flushing, to keep your bathroom in shape.
Leak Detection and Repair
Leaky pipes can lead to water damage, mold growth, and other issues in your home or business. Expert plumbers use advanced leak detection techniques to locate the source of the leak and repair it quickly and efficiently, minimizing damage and cost. We affordable offer video pipe inspections.
Drain Cleaning and Repair
Clogged drains can lead to slow-draining sinks, foul odors, and even sewage backups. Our plumbers can clean and unclog any drain. We also repair or replace damaged pipes, keeping your home's plumbing system running smoothly. Drain blockages are sometimes due to foreign objects. Please do not let anything go down your drain that should not. We are the Gwinnett County plumber to call for drain cleaning service.
Water Heater Repair, Replacement, and Installation Services
Do you require Water Heater Repair and Replacement? Hot water keeps your dishes clean, your clothing wrinkle-free, and your showers enjoyable. It is an absolute necessity for you and your family. However, when your water heater fails, you should never attempt to repair it yourself since you risk causing more harm to the system. Instead, check to see if your water heater is not working correctly. Then, contact us immediately to have it repaired or replaced!
Are you in need of water heater installation services? A properly functioning water heater is crucial for hot water in your home. Our professional plumbers can help you choose the right water heater for your needs and ensure proper installation, ensuring it runs efficiently and safely.
Repair and Installation of Tankless Water Heaters
How about the Maintenance and Installation of Tankless Water Heaters? Unlike standard water heaters, tankless water heaters do not require a reservoir of pre-heated water. Instead, these systems use propane or natural gas to heat water on demand, activating only when a hot-water faucet or another appropriate device turns on. Though the operation of a tankless heater is far different from that of a traditional heater, one thing remains the same: If you're considering installing one, you need help from a professional.
Garbage Disposal Installation and Repair Service
Is it time to repair the garbage disposal? For many homeowners, the dreadful hum of faulty garbage disposal is a familiar and unwelcome sound. Unfortunately, assuming garbage disposals shred or liquefy huge bits of food, some people will mistakenly jam their disposals regularly. These gadgets will manage modest amounts of food debris only. We can repair your disposal and advise you on how to keep it in good operating order.
Replacement Services for Water Lines
Anthony Wimpey Plumbing is the qualified plumber to call for local plumbing services in Gwinnett County. Water pressure is one of the first indications that a water line needs to be repaired. If the pressure or volume in your home has decreased, especially if the change occurred suddenly, you have a major problem with your water connection. Additional issues could include leaking or pooling in your yard or home, a softer lawn or other portions of the yard, broken faucets, or any other unusual behavior.
Your water lines may occasionally break and flood a part of your home, such as the basement. If you notice rapid flooding and are unsure what to do, the first step is to contact a qualified plumbing service for assistance. Plumbers are available right away to walk you through the process step-by-step of shutting off the water main. Even though it does not repair the broken line, doing so will stop the harming flow of water into your house until a plumbing service can arrive. The plumber will then be able to evaluate the circumstance and create a strategy for your water line.
Faucet Repair and Fixture Installation Service
Do you need help with a leaky faucet? Are you looking for knowledgeable plumbing experts for installation fixture services? Because of the constant noise a drip creates, a leaking faucet is one of the most hated issues in home plumbing. Unfortunately, the leading cause of a faulty faucet is not misuse or mistreatment but easy day-to-day use. We can make any adjustments necessary to get your faucet back in good condition or supply replacements for any parts that have worn out.
Fixture installation in Gwinnett County is something our professional plumbing experts can do. We install various plumbing fixtures, from faucets and sinks to toilets and shower heads. Anthony Wimpey Plumbing will ensure everything is connected correctly and functions as intended, providing peace of mind. Our Gwinnett County bathroom and kitchen fixture repair services are fast and affordable.
Emergency Plumbing Services From Local GA Plumbing Company Near Me
An emergency plumber is only a phone call away when you call us. And we also have scheduled appointments available for your convenience. But, unfortunately, scheduling an appointment is not always quick enough . You need emergency plumbing services.
Plumbing emergencies can happen anytime, causing significant damage to your home and belongings. Emergency plumbing services are available 24/7 to address urgent issues such as burst pipes, sewage backups, and major leaks. These professionals will quickly assess the situation, perform necessary repairs, and minimize damage.
When you have a powerful, dangerous leak, you must act fast to protect the value of your home and the safety of your things. So when you call Anthony Wimpey Plumbing in an emergency, we will walk you through the steps to get the leak under control as soon as possible. Our Gwinnett County plumbers are patient and understanding, so give us a call today.
Gwinnett County Plumbers For Pipe Installation
Whether building a new home or renovating an existing one, proper pipe installation is crucial to prevent leaks and water damage. Skilled plumbing experts can help you select the best materials and design a piping system that meets your needs and local building requirements.
Water Heater Maintenance
Routine water heater maintenance in Gwinnett can extend its lifespan, improve efficiency, and prevent costly breakdowns. We can inspect, clean, and tune up your water heater, ensuring it runs optimally and saves you money on energy bills.
Pipe Inspection and Maintenance
Regular pipe inspections can help identify potential issues before they become costly problems. We can use specialized equipment to check for blockages, corrosion, and leaks and perform necessary maintenance to keep your plumbing system in good condition.
Gwinnett County Plumbing Company Preventative Maintenance
Preventative maintenance is crucial for avoiding plumbing emergencies and costly repairs. We can send a professional plumber to provide routine inspections, cleaning, and care to ensure your plumbing system remains in peak condition.
More Plumbing Services
Plumbing Services
24/7 Emergency Plumbing Services
Faucet Repair Service
Garbage Disposal Repair Service
Sewer Line Repair and Installation Service
Sewer Line Replacement Service
Tankless Water Heater Repair Service
Tankless Water Heater Installation Service
Toilet Repair Service
Water Heater Repair, Replacement, And Installation Services
Water Line Repair Service and Water Line Replacement Service
Anthony Wimpey Plumbing, Lawrenceville Plumber Near Me
We are the Gwinnett area plumbers with fast, friendly, affordable service. Understanding the various plumbing services available can help you maintain a leak-free home and avoid costly repairs. Investing in regular maintenance, seeking professional assistance for installations and repairs, and having a trusted emergency plumber on call can keep your home's plumbing system in great shape. Choose a reliable, skilled Gwinnett plumbing service to ensure the best results. We do the job right the first time. Call us to have a stress-free experience in Gwinnett County.
Thanks for choosing Anthony Wimpey Plumbing. We are your Lawrenceville, GA, family plumbing company near me. Established more than three decades ago by Master Plumber Anthony Wimpey, we are still a reputable local plumbing business.
Sons Dale and Andrew run the business now, providing the same top-notch customer service their father did. The brothers keep their father's commitment to friendly, honest, quick customer service. And his commitment to being the absolute best affordable plumbers in Lawrenceville. Call 770-415-8133 to schedule service and leave your plumbing problems to us.