Every Lawrenceville hot water heater repair homeowners need is available at Anthony Wimpey Plumbing. A broken or failing water heater complicates life. It is nearly impossible to get through one day without needing hot water. Learn more about our water heater repair and water heater replacement services. For those living in Lawrenceville, Georgia, or a nearby neighborhood in Gwinnett County call 770-415-8133.
Hot Water Heater Repair Lawrenceville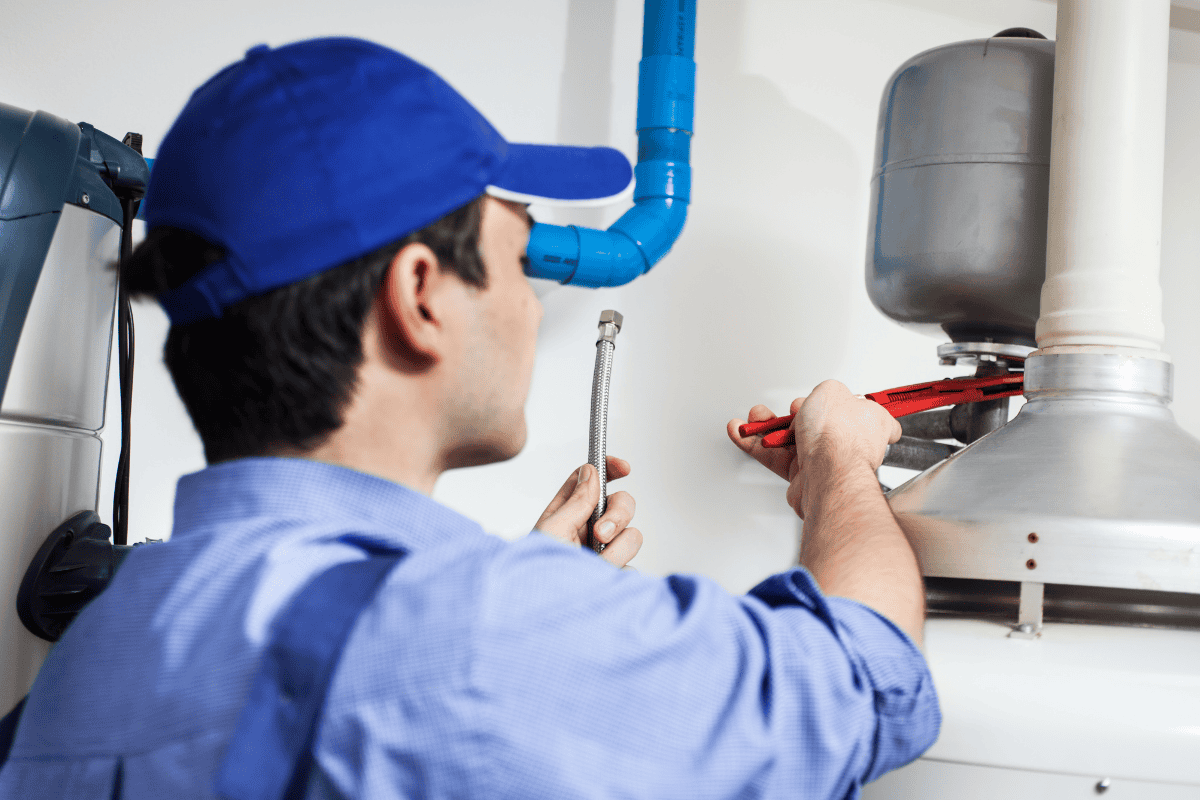 Getting assistance from a professional water heater expert at the first sign of trouble can reduce the likelihood of a premature replacement. When our plumbers address issues as soon as they arise, a simple Lawrenceville water heater repair service may be all that is required to get your hot water back on track.
Ignoring water heater problems, on the other hand, may exacerbate issues with the unit. When water heater issues worsen, you risk damage to components of your plumbing system. Furthermore, if left unattended for an extended period, a  problem may cause additional trouble with your plumbing and necessitate multiple repairs to resolve. So, as soon as you suspect that your hot water heater is not working properly, give us a call at 770-415-8133.
If you are you fed up with dealing with a shortage of hot water, we can help. We will send a hot water heater repair Lawrenceville plumber to your home or business to perform an inspection. We have qualified water heater plumbers ready to repair your broken water heater. Request high-quality water heater repair in Lawrenceville as well as routine water heater maintenance in Lawrenceville.
When Should You Replace Your Water Heater?
The average tank hot water heater has a lifespan of 8 to 15 years. A water heater that is ten years old or older may run inefficiently. This can go on for years sometimes before the heater completely fails. that is why it can be difficult to determine the best time to replace your water heater until it breaks.
The truth is that an aging hot water heater will eventually fail. And when water heaters finally die, you will have no hot water. And even worse, you may have a hot water flood inside your home. So, when your hot water heater is over ten years old and you notice water leaking around it, it is time for water heater replacement services.
In addition, there are other reasons to call us for a water heater replacement. For example, Suppose, your daily hot water requirements increase and your current water heater cannot supply enough. Anytime your unit supplies inconsistent access to hot water, replace it. Also, when rust appears in your water, the time to replace your water heater is growing near. The same goes for water heaters that rumble, knock, bang, and make loud hammering sounds.
Heating water is the second-largest energy expense for most people, accounting for almost twenty percent of the average energy bill. High-efficiency water heaters today use significantly less energy to heat water than those produced a decade ago. So, upgrading an old water heater can cut your energy consumption by half and help you save money. Furthermore, the new tankless water heaters and hybrid versions are excellent upgrades. So, call us at 770-415-8133 to get a new water heater installed right now.
Plumbers for Water Heaters in Lawrenceville
Lawrenceville, Buford, Suwanee, Duluth, Johns Creek, Norcross, Snellville, and the surrounding regions are served by Anthony Wimpey Plumbing. Tankless water heaters are gaining in popularity. These water heaters offer all the functionality of a traditional tank unit without the bulk and weight. They are also more cost-effective than tank units because you have no hot water tank to maintain that can leak anytime. Call 770-415-8133 to get an estimate for a new water heater or repair.