The plumber Norcross homeowners need to hire is one with years of experience. Why is that important? Suppose you are dealing with plumbing issues like a leaky pipe, a slow-draining sink, or an overflowing toilet. In that case, you need the expertise of a seasoned professional. Anthony Wimpey Plumbing can deliver fast and effective plumbing repair in Norcross, Georgia. We are your local plumbers, boasting 30 years of experience in the home plumbing industry.
It is not just about a one-time service call and a quick repair to fix a plumbing issue. We build relationships with our customers. Many loyal customers use our services today as they did thirty years ago. Knowing you have a qualified, honest plumber caring for your plumbing is a good feeling. And we bring that kind of peace of mind to our customers.
You need more than just a Plumber; you need a professional with a wealth of local experience to serve you better. That is why, when it comes to plumbing repair, the residents of Norcross count on Anthony Wimpey Plumbing. We save our clients time, money, and hassle, making us the preferred choice for a quick resolution for all plumbing problems.
Fast Plumbing Repair in Norcross, Georgia
Plumbers at Anthony Wimpey Plumbing are fast and friendly and are known for honest service. As a long-standing plumbing business, our reputation is for expert knowledge, quality service, trustworthy plumbers, and reasonable prices.
 If water runs through it, our plumbers can fix it, is what we say, and you can believe it 100%.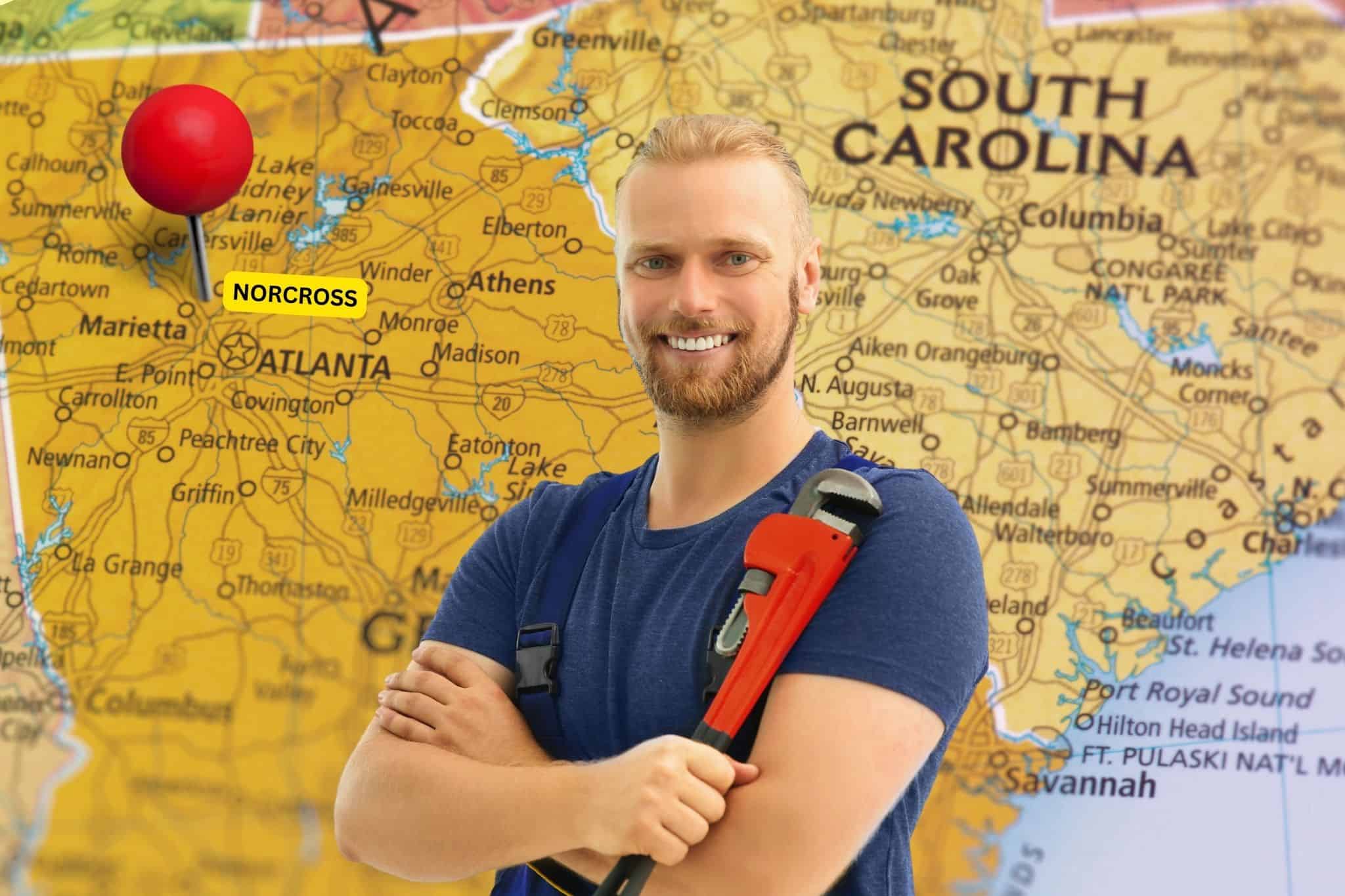 With over three decades of experience serving Norcross, we have learned that dependability is critical. Our customers have their choice of dozens of plumbers, but they keep calling us because they know we will always show up to help them. It may sound simple, but unreliable plumbing companies exist that do not show up for appointments. 
But we show up when we say we are ill for appointments. Your time is valuable, and we respect that. When customers praise us for dependability, we know we are doing something right.
Comprehensive Plumbing Services in the Gwinnett Area by Experienced Local Plumbers
It is no secret that plumbing repairs – whether water heater repair, water line replacement, or toilet repair – can often evoke a sense of dread regarding cost. At Anthony Wimpey Plumbing, we believe in absolute transparency and providing an honest estimate upfront to mitigate such concerns. That lets our valued customers understand what they can expect, avoiding misunderstandings or unplanned expenses.
When you choose Anthony Wimpey Plumbing, you are not just selecting quick solutions to your plumbing issues. Still, you also benefit from avoiding other potential costs – such as overtime pay, property damage, and equipment expenses. But you can trust you are getting an experienced, professional plumber committed to delivering the best service possible.
Our expert team handles various plumbing services – from snaking complex sewage backups to providing effective drain-cleaning solutions. Over thirty-plus years in the industry, we have built a reputation for being a reliable, one-stop source for addressing your plumbing needs in the Gwinnett Area. Remember, Anthony Wimpey Plumbing is the name you can trust for plumbing repairs and services!
Specializing in Services For Water Heaters
For premier plumber Norcross Services, Anthony Wimpey Plumbing leads the forefront. We provide top-tier services around water heaters and water line issues, bolstered by our vast experience.
As a seasoned plumbing provider, we comprehend that water heater repair services in Norcross are not just essential. They speak volumes about a plumber's depth of experience. Not every plumber can fix water heaters, but we can – and much more. Our service portfolio spans a wide range of plumbing issues, guaranteeing you reliable solutions at affordable pricing. Water leaks, surprisingly familiar, can be a product of several factors – tiny cracks in the pipes, loose connections, or a weary sewer vent, are only a few. That is why having a reliable plumber is indispensable.
Anthony Wimpey Plumbing brings decades of firsthand knowledge to every water heater repair in Gwinnett County, providing peace of mind for homeowners. Water heaters over a decade old without proper maintenance are typically due for a replacement. Our plumbers offer outstanding tank and tankless water heater installation and replacement services.
Troubled with Leaks? Plumbing Solutions in Norcross
Be vigilant and take preventive measures to prevent water damage from causing serious infrastructure issues and safety risks. Remember that mold can grow in areas with high moisture levels, even if it is not visible. Acknowledging that plumbing leaks in Norcross, GA, can lead to decay if not detected early is crucial. This hidden health hazard can cause severe illnesses and respiratory problems, which nobody wants to experience.
Have you noticed any outdoor water leaks on your property lately? If so, acting and preventing further damage to your infrastructure and safety is essential. Anthony Wimpey Plumbing can help you identify the problem and limit the harm caused to your property. It is always best to meet with a leak detection specialist when you suspect you have a leak to know the exact location of a water line or copper pipe leak, which is critical. To learn more about our leak detection and repair services, read our recent press release.

Having that information before excavation is the only way to minimize the damage the digging does to your lawn and landscaping. At Anthony Wimpey Plumbing, we take pride in our professional approach and guarantee the safety and well-being of our clients. We can help you avoid hidden health hazards that may cause severe illnesses and respiratory problems.
Call Anthony Wimpey Plumbing for top-tier leak detection services in the Gwinnett area. Our Norcross plumbers can locate leaks inside and outside your home or business in pipes, lines, and slabs. We provide fast yet affordable water leak repair services. 
Regarding underground line installation, we prioritize safety while working on your utility line. Our extensive plumbing services include leak detection, pump installation, and water leak and water heater services. Trust us to deliver professional and speedy solutions.
Norcross Area Plumbers Recommend Drain Cleaning To Avoid Sewer Backups
Do you have a slow shower drain? Is more than one drain in your home clogging more frequently? Stubborn drain clogs that continue to block even after repeated plunging can indicate sewer issues. Contacting a local area plumber to clear clogged drains before the problem worsens is the way to avoid sewer complications. Like a sewer backup, for instance.
Many people do not understand the consequences of ignoring drain problems. Ignorance, in this case, lets raw sewage contaminate floors, posing a severe health risk to people and pets. It is crucial to act quickly to prevent the spread of harmful germs that thrive in unsanitary conditions.
Fortunately, we are the Norcross plumbing service near me for residential and commercial sewer repair and drain cleaning. If raw sewage and all its filth coming up through your drains frightens you, it should. Not only are sewer backups disgusting, but cleaning up the mess is unlike water cleanup and requires specialized equipment to do it safely. Regular drain cleaning in Norcross stops clogs before they start and ensures you avoid sewer backup.
Regular drain cleaning in Norcross, GA, is an essential practice that prevents clogs and blockages, improving the flow of your plumbing system. Maintaining your pipes and drains will lead to a long-lasting system with fewer problems. Investing in drain cleaning for maintenance is a wise decision that can save you money.
Water Line Repair And More Plumbing Services
Water lines can encounter various problems, from blockages and cracks to crushing and breakages. Every damaged pipe is a potential leak waiting in the wings. Add to that the buildup of mineral scale degrading your plumbing components, and you have leaks on the horizon. If you notice a crusty white or greenish mineral buildup in your home, it is time to call Anthony Wimpey Plumbing. We believe prevention is far better than cure. By catching problems early, we can avoid massive water line issues down the track. Watch for deteriorating water pressure and quality – they could be the initial signs of worsening scale, corrosion, and rust.
External factors also play a part in water line damage. Soil erosion, earth movement, heavy machinery, and extreme weather conditions can damage water lines. If your lines leak due to physical trauma, it is time for water pipe repair. A particular culprit for water line issues is tree roots. Invasive and aggressive, they can burst your pipes from the inside. At Anthony Wimpey Plumbing, we offer timely, efficient solutions to swiftly mend your water lines and restore your peace of mind.
24/7 Emergency Plumbing Services 
Sewer Line Repair and Installation

Tankless Water Heater Installation

Toilet Repair Service

Water Heater Repair, Replacement, And Installation Services

Water Line Repair Service and Water Line Replacement

Commercial Plumbing Services
Contact Anthony Wimpey Plumbing
Our plumbing team is known for providing friendly customer service as a long-standing Georgia plumbing service. Over 30 years of experience in Gwinnett, Lawrenceville, Peachtree Corners, Duluth, Suwanee, Norcross, Lilburn, and nearby local neighborhoods makes us the local choice. Through the years, customers have chosen to rely on us for our record of dependability. When we commit to helping our customers, we follow our promise.
We are the local area plumbers Norcross residents hire for excellent service. Experience the quality of our work when you need plumbing solutions. Get a free quote or a free estimate by calling us at 770-415-8133.