Johns Creek Water Heater Experts Explain Your Options
The water heater Johns Creek experts at Anthony Wimpey Plumbing repair, replace, and install water heaters. When you need help choosing to repair or replace your water heater, you need a plumber you can trust. Our plumbers help you make the water heater decision that best fits your family's needs.
There are a lot of water heater options available. There are different types of water heaters, but there are also many features and models to consider. Many clients get overwhelmed by the variety of details they see when looking at Johns Creek water heaters. So, that is why if you decide to install a replacement water heater, we will help you decide which heater will work well for you.
Water Heater Types For Johns Creek
Conventional storage water heaters keep hot water in a storage tank reservoir, ready for use. As a result, tank water heaters constantly heat the water, regardless of whether you use the water. Unfortunately, when the requirements for hot water exceed the tank volume, there will be moments when you will be out of immediate hot water.
Tank water heaters come in various sizes, between forty and eighty gallons. In addition, these water heaters can run on electricity, natural gas, or liquid propane. However, keeping hot water ready to use makes them inefficient. Therefore, some homes use hybrid versions of tank water heaters to solve this efficiency problem.
Tankless or demand-type water heaters heat water directly without using a storage tank. Properly sized tankless water heaters can supply adequate hot water endlessly. Because these water heaters lack the storage tanks that tank water heaters utilize, they are much smaller. Tankless water heaters can fit into small places like cabinets and closets as they are about the size of a large shoebox.
The solar hybrid hot water heater is a less common type. These can run without power or fuel using two coils. One connects to a solar collector and the other connects to a hydronic boilers heat line. These solar hybrid models will not work in every home.
Factors To Consider Before Water Heater Installation
When selecting the best type and model of water heater for your home, consider the following energy source or fuel type, size, energy efficiency, and costs.
The energy source or fuel type a water heater uses to heat water affects the annual operating costs, size, and energy efficiency. Unfortunately, not all fuel types are available in every area in GA. And not all homes can accommodate every energy source, so that may limit your water heater choices. Water heaters' possible fuel and energy sources include electricity, fuel oil, geothermal energy, natural gas, propane, and solar energy.
Only a properly sized water heater will supply your household with a sufficient volume of hot water and maximize efficiency. Choosing the right-sized unit depends on the amount of hot water your home uses daily.
To maximize energy conservation and cost savings, review the energy efficiency of different water heaters before you purchase one.
Consider the installation and annual operating costs when looking for a new water heater.
Gas Water Heaters Versus Electric Models in Johns Creek
Most water heaters in Johns Creek, GA run on electricity or natural gas, So, Anthony Wimpey Plumbing thinks it is important for their customers to understand the differences between gas and electric water heaters.
So, here are a few of the pros and cons you need to know before choosing how to fuel a new hot water heater in Johns Creek, GA.
First, we will talk about the pros and cons as they relate to using natural gas or propane to heat water. Gas water heaters for your Johns Creek home come with many advantages. These include lower monthly energy costs, high energy-efficiency model options, and a wide range of water heater sizes. In addition, gas water heaters heat water faster than other types, and they work during power outages.
On the other hand, there are cons to think about with gas-fired heaters. These water heaters can cost more upfront and will require more maintenance. Using gas has inherent safety risks to consider, and gas models do result in more energy loss than electric water heaters.
Now, we will consider the advantages and disadvantages of heating water with electricity in Johns Creek. First, we want to discuss the benefits of choosing an electric water heater installation. Electric water heaters tend to cost less upfront, require less maintenance, and have fewer safety concerns. They also lose less energy, and they are available in a wide range of sizes.
Electric water heaters do have a downside. These cons include higher monthly utility costs with no high-efficiency electric models available. Also, consider that electric water heaters will not work during a power outage without the assistance of a generator.
Also, electricity does generate hot water as quickly as gas does. So, that means you may wait longer for more hot water after you use all the hot water in your tank.
Lean more about gas versus electric water heaters.
Johns Creek Plumbing Repair Services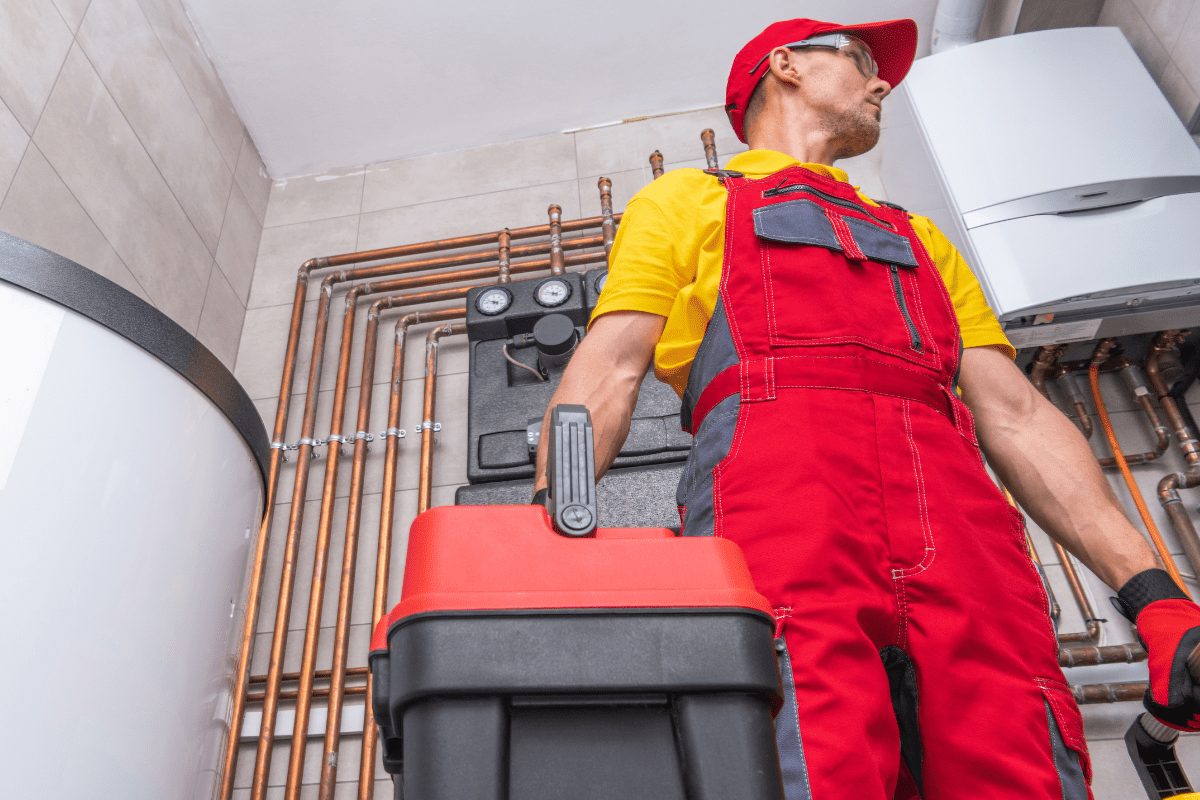 When choosing a plumber for Johns Creek water heater repair, it is essential to find a reputable local plumbing company. Anthony Wimpey Plumbing provides quality repair services at reasonable rates. When repair services cannot fix a hot water heater cost-effectively, buying a new one is your best bet. We are happy to help you choose the right hot water heater for your needs and budget.
Call 770-284-8496 for fast, affordable plumbing services in Johns Creek, Social Circle, and surrounding areas.
If you have a problem water heater, water heater replacement or water heater repair is in order. Fortunately, we repair a malfunctioning water heater and offer water heater installation services.