There are pros and cons to tankless water heater installation that plumbers in Conyers, GA wish you knew.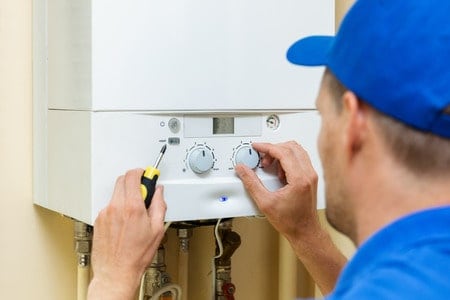 There have been ongoing debates about tankless water heaters vs conventional models for years. Both types of water heaters, like so many other things in life, have advantages and disadvantages. Here's insight into some of the pros and cons of tankless water heater installation, and what plumbers in Conyers, GA wish you knew about it.
Is Cost a Pro or a Con?
This is probably one of the biggest differences between the two. Having said that, it may actually turn out to be a wash. While the conventional water heater costs less initially, you may wind up spending more during the 10-12 year lifespan of the unit.
Tankless water heaters use 30%-50% less energy, but the initial cost outlay is greater. You also have to make sure you're getting a tankless unit large enough to meet your family's needs.
There are smaller units available, but the hot water output of those models is not usually enough for a whole family. The smaller units typically are only capable of serving one tap at a time. If you're running the dishwasher and someone wants a shower, it can become a problem.
The larger tankless units, which can supply hot water to multiple faucets at the same time, can be much more expensive.
Is it Difficult to Install a Tankless Water Heater?
Don't you just hate it when the answer to a question is "it depends"? Regrettably, this is one of those questions. If you're replacing a traditional gas water heater, it's not necessarily a simple "swap."
When installation commenced on a traditional heater, it wasn't with the intention of switching over to a tankless model one day. Plumbers in Conyers want you to be aware that your current gas meter, pipes and gas line may not even be the right size to handle the tankless model with the increased amount of gas it uses.
Conventional water heaters also have a completely different way to vent exhaust. You must consider all these factors if you're contemplating the purchase of a tankless water heater. It's possible it could mean extensive re-configuring of your entire plumbing system. Your caring plumbers in Conyers, GA want you to consider all these things and get proper pricing before you make a final decision.
On the Plus Side
Despite all the back and forth talk about which is better, the tankless version does have some absolute advantages over its older counterpart. For one thing, it does use less energy. The average lifespan of a tankless water heater is about 20 years, nearly double that of a conventional model.
Tankless heaters, because they don't have a big holding tank full of water, are much smaller and easily mount on a wall. And instead of a tank full of water going through a constant heating cycle, the tankless heater warms the water on demand, as much as you need for as long as you need it. No more "running out" of hot water halfway through a long shower.
The Pros Know Best
Installing a tankless water heater is not a do-it-yourself project. It will require a professional. It may even mean additional permits, depending on the requirements of your particular area. Professional plumbers have been working with tankless water heaters for a long time now; they will know what permits are necessary and will have the know-how to get them for you. In some areas, local municipal personnel will have to sign off on the final work to make sure it's all up to code – another reason to hire a pro!
So before you make the final decision to go tankless, be sure you know and understand the differences between tankless and conventional. You'll be happier in the long term. Your Conyers, GA plumbers can give you the professional guidance you need to make an informed decision.