The water heater repair Lawrenceville finds the most trustworthy is Anthony Wimpey Plumbing. They know that the expert plumbers at Anthony Wimpey Plumbing solve water heater problems fast in the Gwinnett County area.
Water Heater Repair Lawrenceville
Suppose you are hunting for Lawrenceville water heater repair tips. In that case, there is a good chance it is because you have a malfunctioning water heater. We know you need hot water for your next shower. But, as far as appliances go, the water heater is one of the most overlooked. Every Lawrenceville water heater repair is preventable with a bit of routine water heater maintenance. Still, few put in the effort to keep it running right.
A typical tank water heater lasts 10 to 15 years. Therefore, if you want us to repair it, you must call us immediately when you notice a problem. That is critical because neglecting a water heater issue will only cause more problems.
In addition, if you do not get water heater repair services, you will likely have to replace the entire unit. Repairing your water heater promptly can keep it in good shape and avoid the need for a replacement.
We service all water heater makes and models in the Lawrenceville area. At Anthony Wimpey Plumbing, we have a solid reputation for honesty. If we can repair your water heater, we will, but often, a new water heater is needed. If so, we offer affordable water heater installation services to the Gwinnett County area.
When It Is Too Late For Water Heater Repair, You Need A Water Heater Replacement
When it comes to your home, there are a lot of different factors that need to be taken into account. But what if you're unsure how to choose the best hot water heater? You probably know that a good hot water heater is one of the essential components in your home; without it, taking a shower or having a warm bath can become a real hassle.
Choosing the right water heater is essential to getting hot water in your home. However, it would help if you were informed of all the factors that come into play when choosing the right water heater. That is why we've provided tips and information on choosing the right water heater. With the correct information, you can choose the right water heater for your home and avoid the mistakes others have made before you.
Seven Things To Do When You Need a New Water Heater
The right hot water heater for your home will depend on various factors, including your current plumbing system and how much hot water you need. However, when choosing the right one, there are some pitfalls to avoid. Here are seven things you need to do when you need a new water heater.
Know What Hot Water Heaters Do
A hot water heater is essentially an appliance that provides hot water. Hot water is essential for various things, including bathing, cleaning, and cooking. Generally, water used for these tasks should be between 60 and 90 degrees Fahrenheit.
So why do we need a hot water heater at all? The primary purpose of a hot water heater is to heat water used for hot water. But, as we've mentioned above, you don't necessarily need one. Your hot water heater is located in your basement or crawlspace, depending on your plumbing system. The piping from your water heater to your faucet is called a water supply line.
Understand the Different Types of Water Heaters
There are essentially two types of hot water heaters. The first is a tank water heater, which uses a tank to hold heated water. The second is a tankless hot water heater, which is essentially a hot water heater with no tank. On the other hand, a tankless hot water heater is essentially an on-demand water heater. It heats water as needed, rather than storing it for later use, and is ideal for homes in Lawrenceville, GA, and Gwinnett County.
If you don't have enough of a hot water supply and your water gets too cold too fast, you may want to consider installing a new hot water heater. Tankless water heaters are incredibly convenient; you don't have to wait for hot water while you're busy in the kitchen or shower. A tankless water heater can be installed outside the house, but if you want to install it inside your house, you'll need to hire a plumbing company near me, like us.
Size Water Heaters According To How Much Hot Water You Need
Most people don't think about the size of a water heater, so this should be your first inclination. The size of your water heater will depend on your household's daily hot water use. Tank and tankless water heaters come in various sizes to meet your demands. You will need to determine what size unit will give you the hot water your household needs every day.  Tank water heaters range from around 40-Gallon units for up to two people. And up to 90-Gallon models for a family of up to six. 
Find Out If Your Unit Too Old For Water Heater Service
We do not doubt that your aging home has charm and character you cannot find in new builds. But older homes also present challenges you cannot ignore. For example, old electrical systems can be full of gremlins that prevent you from using electronics and appliances freely. Plus, aging appliances drive up your utility bills and require frequent repairs.
The older your water heater is, the more likely you will have to get a water heater replacement soon. Old water heaters with their old components will eventually break down. As they become obsolete, it is no longer possible for old water heaters to be dependable. Besides, a new efficient model will save you a fortune on utility bills. So, you can stop throwing money down the drain to have hot water.
Consider Tankless Water Heaters
Consider tankless water heaters for an Eco-friendly way to heat water only when you need it. Reduce carbon emissions with high-efficiency tankless water heaters that use up to 40% less energy than standard tank water heaters.
On average, 7.3 million 50-gallon tank water heaters are in U.S. landfills annually. That is a massive amount of waste. However, tiny, long-lasting tankless water heaters with more recyclable components and replacement parts have significantly less impact on landfills.
Look for Hard Water Mineral Scale
Hard water wreaks havoc on water heaters. The minerals in hard water can build up layers of crud at the bottom of your water heater. If you go many years without flushing your water heater, it can become impossible to fix the appliance. In addition, efficiency goes out of the window as the heating element becomes useless in an electric water heater. Finally, a gas water heater will also fail due to the corrosive nature of hard water. For all these reasons, the solution for significant hard water damage and corrosion is the installation of a new reliable water heater.
The harder your water is, the more often you should flush out your water heater tank to prevent these problems. If you are facing a water heater replacement, we encourage you to consider installing a water softener. Water softeners can extend the life of your water heater, dishwasher, washing machine, and plumbing in general.
Find Out If Your Warranty Expired
At some point, your water heater warranty will expire. Unfortunately, that usually means the cost of Lawrenceville water heater repair services will be your responsibility. For many homeowners, an unexpected hot water heater malfunction is a nightmare. In addition, the cost of installation on top of no hot water is a horror. But it does not have to be that way.
Are You Ready for Your Heater To Die?
You can wait until your water heater stops working unexpectedly to think about a replacement. But, on the other hand, you can prepare for the day your water heater dies. You do not have to be caught with no hot water and need emergency water heater service and installation. Remember the tips in this post and call the reputable Lawrenceville plumbing company, Anthony Wimpey Plumbing. We keep our costs low to pass those savings on to our customers.
Get Professional Plumbing Advice Before Water Heater Installation
There are many decisions to make regarding hot water heaters, from the type to the size, and it can be challenging to make everything fit quickly. That is why getting professional advice on hot water heaters is a good idea.
A plumbing professional can look at your home and its plumbing system and recommend the best hot water heater for your specific situation. They will also be able to consider the size of the water heater and the amount of water you need to use.
Our professional plumbers can recommend the best type of hot water heater for your situation. The most common types of hot what work best for your home. Fortunately, we are water heater repair and replacement experts. And we can help you find the best unit for your family. Most water heaters services are same-day services when at all possible. Request Service.
The Best Water Heater Installation and Water Heater Replacement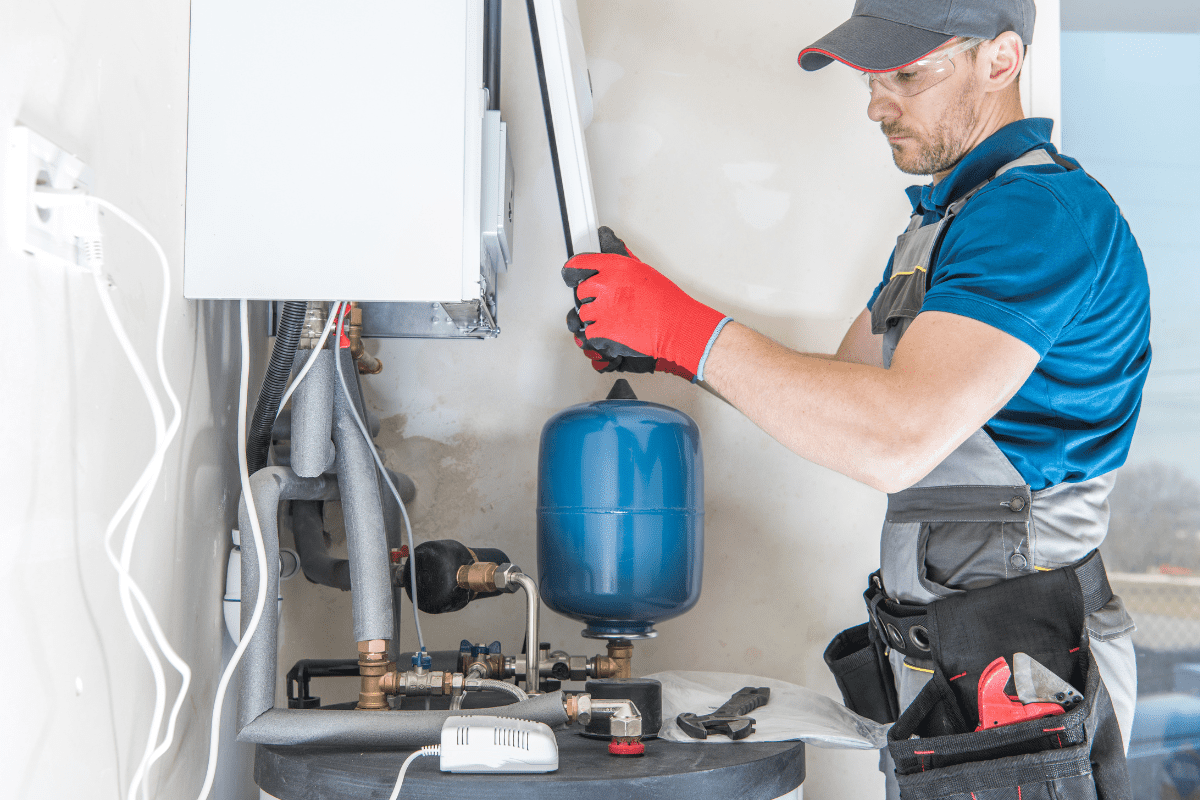 When you trust your water heater with the professional plumbers at Anthony Wimpey Plumbing, you make a sound investment for your home. Our plumbing experts will tell you a story about your water heater's maintenance needs. We will get the job done as efficiently as possible if we can repair it. If the unit is beyond repair, we will help you replace it with an efficient new model. All this at a reasonable, affordable price. For water heater repair near me, gas water heater repair near me, and electric water heater repair near me, trust our plumbers near me.
Whether we repair or replace your water heater, we will also help you ensure it keeps working for many years. Contact us for gas line service for gas tankless water heaters and conventional water heaters. Our dedicated plumbers also know the best ways to keep electric water heaters in good shape. In addition, we will show you how to check components for wear and tear. We even share more water heater tips with our customers for free.
Call Anthony Wimpey Plumbing For Lawrenceville Water Heater Repair and Replacement
The Anthony Wimpey Plumbing team of plumbers has proudly served Lawrenceville for over 30 years. Our family-owned company stays committed to taking good care of your residential plumbing needs. We also supply commercial plumbing services for commercial properties and local businesses. So let our family treat you like family – Call 770-415-8133 now to schedule your water heater repair with the most recommended plumbing company in Lawrenceville. We are tankless water heater installation experts. So talk to us about your plumbing needs and schedule an appointment.