Snellville, GA plumbers can save your pipes and your sanity.
Snellville, GA plumbers get asked all the time – do I really need a total home re-pipe? If a total home re-pipe sounds pretty major, it's because it is. No one wants to face a "total home" anything. It often means costs, inconvenience, and workers in and out of your home for days on end.
Consider, however, the importance of your pipes and how they get water to your home and to all of the faucets and spigots that you use on a daily basis. It's not only essential for convenience sake, but it's also a matter of significant importance to the health and well-being of you and your family. Think about how much water you consume and use every day. It's not just a glass of water here and there, it's also the water you cook with, the water you clean with, that you bathe in, and that your pets rely on.
Your plumbing pipes are a critical part of the way your home functions. If you are having problems with any of the pipes, it could be a quick fix with a simple repair that a plumber can complete in one service call, but it might be something bigger that requires a whole home re-pipe.
Before we jump to any conclusions, let's break it down. Here's the lowdown from some top plumbers on what you need to know about a re-pipe: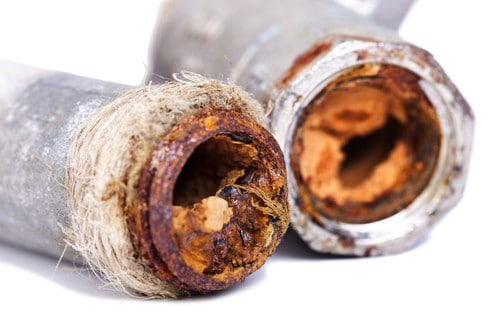 What Is a Total Home Re-Pipe?
A total home re-pipe is just what it sounds like. It's when you have all of the old plumbing pipes in your house replaced with new ones. In the process, you get all new pipes and anew plumbing system. The only other time you might have all new plumbing is if you buy a new-build home.
Consider the age of your house. However old your house is, that's how old your plumbing is. Imagine how much water has gone through those pipes over the years. Now think about how corrosive water can be, especially if your local water supply has a lot of calcium and magnesium deposits making it particularly hard. That water can take a toll on the piping materials and make your water quality and delivery suffer. Your pipes can't last forever, and if they an older material, their lifespan will not be what you hope. That's when a re-pipe becomes a necessity.
What Water Will Do to Pipes
If your home is more than 50 years old, it's likely that your plumbing is galvanized steel. As Shannon Dauphin of Old House Web says, "At some point, almost every old home will have a serious plumbing problem. Much of that problem can be traced back to galvanized pipe, which was a popular option for homes built between 1900 and 1965." Galvanized steel is strong, but over time will break down. Though they are a much better choice than the lead pipes of long ago, they are not resistant to the damage water can do to steel. This includes rust and corrosion on the inside of the pipe that can cause issues with water delivery as well as quality issues to the water that travels through the damaged pipe.
How Will a Plumber Determine If Your Home Needs a Re-Pipe?
When you hire a reliable plumbing professional, they will come to your home for a service call and will complete a careful evaluation and assessment of your piping system before they will recommend a re-pipe. This includes talking to you about your experience, your home, past issues, and checking the state of the plumbing throughout your home. They will also check for leaks you might not have noticed, in addition to inspecting the pipe material used in your house.
The worst-case scenario would be lead pipes, which would mean the pipes are very old and can cause serious health issues. Other pipe materials, including cast iron and galvanized steel, can have enough corrosion to cause any number of problems. They will take all of this into consideration and will determine whether localized repairs will do the trick or whether you need a total re-pipe.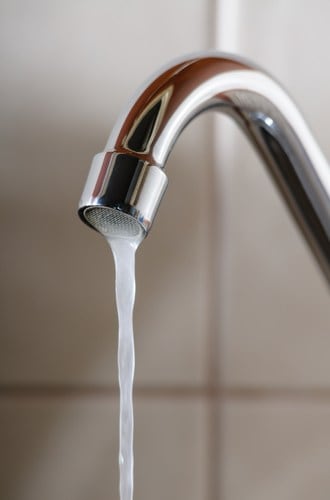 What's the Re-Piping Process?
The scariest part of a re-pipe is not knowing what to expect. Does it mean ripping out drywall and destroying walls? Will they have to dig up your lawn? Will they leave your house a giant mess for weeks on end? The good news is the answer to all of those questions is no.
First things first, your plumbing team will determine what materials they will use and where. For most home projects, plumbers will use copper pipe for the main waste lines and the main water lines. All other water lines throughout your house will most likely be some type of plastic because of its longevity and durability. Once they know the scope of the project, they will give you a cost estimate for the complete job, including labor and materials.
Before the installers begin the work, they will cover the areas where they are working to protect your floors and furniture. They will carefully cut into the drywall in your walls and ceilings to locate the pipes and replace them. When the work is complete, they will patch and repair the areas affected. They'll leave your house looking just like it did before they started.
It's good to know that most of the work is done during the day while you are at work or have the ability to be out and about. That way, it won't cause a huge disruption to your life and schedule. The whole process should take no longer than three to five days, depending on the size of your home. It's unusual for pipes to require extensive excavation in order to access them. But if that's the case, they will restore your home before the project is complete.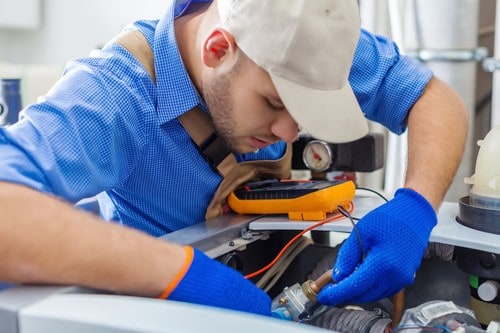 What Are the Benefits of a Re-Pipe?
You need a plumbing system you can rely on every day. But is it really worth it to consider re-piping your entire house? Here are some of the benefits you can expect from investing in all new pipes:
Water that is free from rust and iron deposits…
When old pipes corrode on the inside, the water that goes through them will pick up and carry those deposits and drop them right in the water you use
Water pressure you can count on, in every faucet in the house…
Without the blockage from the rust, buildup, and corrosion, your water will be able to come through full-force
A safe system that delivers clean water for you and your family…
New pipes will resist bacteria, corrosion, and rust so you can feel good knowing you're getting the best water possible
Fewer leaks and clogs…
The old pipes can't handle the use and flow any longer, which results in increased leaks from the pipes breaking down causing weak spots where leaks can appear, but you can say goodbye to leaks and clogs with new pipes
Increased value of your home…
This upgrade will last for decades and can increase the value of your home in much the same way new appliances or a new roof might

What would your house be like, and what would your life be like, without indoor plumbing and running water? It's hard to imagine. We're so lucky to live in an age with so many conveniences that make our lives easier and that keep us safe and healthy.
Your pipes are your line to fresh water and safe plumbing. If they are starting to deteriorate, it's time to take action. Contact our team of expert Snellville, GA plumbers at Anthony Wimpey Plumbing right away. That way you can get a jump on new, improved, better-performing, safer, healthier water supply delivery with a total home re-pipe.