Is your water heater leaking, Lawrenceville? Hot water is a given in any modern home here in Lawrenceville. So, when you do not, you need the help of a certified professional immediately. Anthony Wimpey Plumbing has provided professional water heater services for over 30 years! Our team provides high-quality, dependable service that consistently exceeds expectations.
Water Heater Service in Lawrenceville, Georgia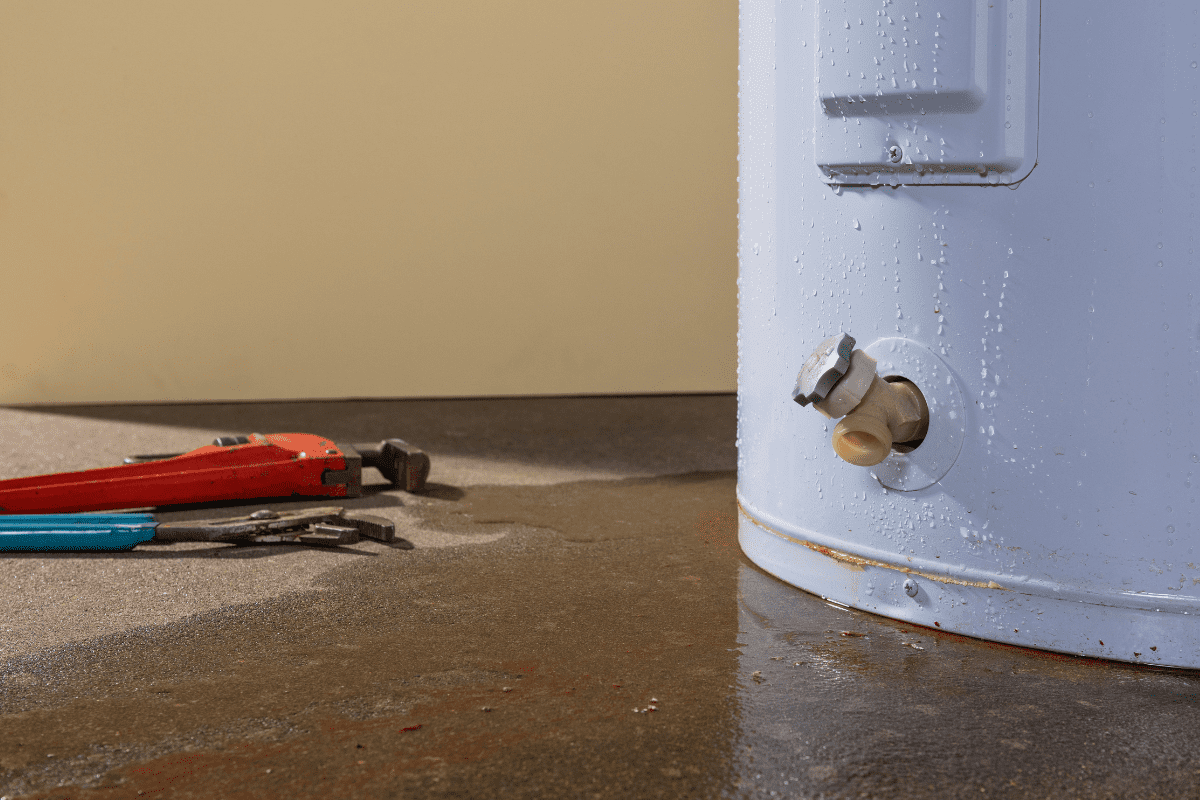 The certified plumbing experts at Anthony Wimpey Plumbing can bring superior water heater services, including installation, repair, and maintenance. So, if you are looking for the best service available in Georgia, contact the professionals at Anthony Wimpey Plumbing.
Are you looking for speedy, reliable water heater services for your home or business? Contact the pros at Anthony Wimpey Plumbing today, online, or over the phone at  770-415-8133.
Water Heater Installation
Do you currently have a water heater in your home? Or are you unhappy with your current installation? With a new water heater, you can save on energy costs. That is because a newer model will be more energy-efficient. In addition, our experts have the skills, experience, and knowledge to provide the best installation services.
What size water heater do I need?
The size of the water heater will depend on the number of people in your home and the typical water usage. For example, a 30-gallon water heater will work for up to 2 people, while a 40-gallon water heater is okay for 4. If you have five or more in your household, a 60-gallon water heater or larger will work.
Should I get an insta-heat water heater?
A tankless, on-demand, or "instant" water heater has many benefits. These units last more than twice as long as tank units. Tankless water heaters are smaller and can free up space in your home. In addition, tankless heaters offer significant energy savings and unlimited hot water. For many families, tankless water heaters work well. However, they may require electrical or gas service upgrades for installation.
Which is better, gas or electric?
Gas water heaters tend to cost less to operate each month. However, because of their complex design, they require more maintenance. Electric water heaters are far more straightforward than gas water heaters, reducing maintenance requirements and increasing reliability. A gas water heater is most likely the right option if you have a natural gas connection. However, suppose an electric water heater is your only choice. In that case, you may consider a hybrid or heat pump water heater. 
What is the best water heater?
The best water heater for you depends on your needs and the type of existing connections you have at home. Also, consider your hot water usage and your budget. Conventional water heaters are less expensive but last about half as long as a tankless model. Gas water heaters are more complex than electric units. 
Hybrid or heat pump water heaters offer excellent efficiency. Gas is required, but they are costly to install. For help choosing the best water heater for you, talk to the plumbing experts at Anthony Wimpey Plumbing.
Should I Replace A Leaking Water Heater?
Well, that depends. Often enough, an excellent professional repair might be just the service you need to get your system back on its feet. But, sometimes, replacement is cheaper overall and a more intelligent choice. So, you should replace if:
Your tank water heater is over a decade old.

The unit requires water heater repair more than once a year.

Your hot water is reddish, orange, or brown.

You have a water heater leaking Lawrenceville.
Do not let the water heater leaking ruin your day. Instead, schedule an appointment in the Lawrenceville area with Anthony Wimpey Plumbing. Contact us today for expert water heater installation throughout Lawrenceville.
Is Your Water Heater
Leaking,
Lawrenceville
?
When suddenly deprived of something as essential as hot water, your anxiety can skyrocket. Do not stress! If you are having trouble with your water heater, the experts at Anthony Wimpey Plumbing can help! Our water heater repair services are second to none, and you can be sure we will have your hot water in no time. Contact us for repairs if:
If your water is not hot enough or too hot

You are not getting an acceptable amount of hot water

Water from the heater is rust-colored

Your water smells weird

You hear pops or bangs coming from your water heater tank.
First, we walk you through every step of our process, noting all aspects that need attention. Then, we will give you our professional opinion on your best course of action, and we will move at your word from there. Informed decisions are intelligent, and we must ensure we bring you the best solution for your needs at Anthony Wimpey Plumbing.
What is the average lifespan of a water heater?
With proper maintenance, storage tank water heaters can last 7 to 10 years, though some units can last up to twenty. Tankless water heaters have a lifespan of 20 to 25 years and will never have water heater leaking Lawrenceville issues.
What are the symptoms of a faulty water heater?
There are a few warning signs that your water heater will fail. Some examples are less hot water, lukewarm water, cloudy or rusty water, a leaking tank, or a leaking pressure relief valve. If you notice any of these symptoms, don't hesitate to contact our team—Anthony Wimpey Plumbing, to discuss your water heater repair and replacement options.
Before tackling any water heater problems, you first need to know what kind of water heater you have. Do you have a tankless water heater or a traditional tank unit? Is your water heater electric or gas in Lawrenceville?
After determining the kind of water heater, you can look for signs of failure. Common water heater problems involve no hot water, insufficient hot water, and discolored, rusty hot water. In addition, leaking water heater tanks and lines are also common issues.
You can try a few things to solve your water heater problem before you need a plumber for water heater repair. First, before you do anything to a water heater, turn off the power to your unit if you have an electric water heater. After that, you can try:
Make sure your hot water demand does not exceed your heater's capacity. Consider adjusting your water use habits if you require more hot water than it can supply. For example, suppose several members of your household bathe in the morning. In that case, one or more of them should try washing in the evening instead. However, you may need to upgrade your water heater first.

Check the thermostat settings – Normal settings should be between 110- and 140 degrees Fahrenheit.

Tighten the heating element mounting bolt – Make sure not to overtighten this, however.

Flush the hot water heater
If these methods do not work, call the team at Anthony Wimpey Plumbing! You can contact us online or by calling today.
It is essential to make sure an expert installs your hot water heater. Anthony Wimpey Plumbing has delivered dependable, timely, expert service to countless Lawrenceville residents. With the new water heater technology, our experts can help set up your water heater for maximum efficiency.
Water Heater Maintenance in Lawrenceville
Like any home appliance, water heaters need professional attention now and then. Our plumbing repair experts can ensure your system runs well. What we do will also increase the unit's energy efficiency. And that will prolong the life of your water heater by years. Our team offers reliable maintenance services in Lawrenceville. Contact us for water heater maintenance.
What type of maintenance do water heaters require?
Once a year, drain sediment from tank water heaters. Flush the heat exchanger on tankless models to remove mineral deposits, sediment, and debris. Test thermostats and controls, inspect electrical connections, and check all plumbing connections for leaks. Measure the resistance of the heating elements on electric water heaters, And inspect the burners, flue, and gas valves on gas models annually.
How do I clean my water heater?
For storage tank water heaters, open the drain valve once a year to drain sediment from the tank. Use a garden hose to direct the water to a drain or a series of buckets to contain the water. If you have an electric model, shut off power beforehand to avoid damaging the heating elements. Restore power only after the tank has had time to refill. Cleaning the heat exchanger on a tankless water heater is not a simple do-it-yourself project.
Emergency Hot Water Heater Services
Are you in a tight spot and unsure where to turn? Do not worry! Anthony Wimpey Plumbing offers complete plumbing services to meet every need. Meeting your needs is crucial; we never want to see you caught without the superior service you deserve.
Whatever your water heater needs, Anthony Wimpey Plumbing has the plumbing experts to answer your water heater questions and solve your water heater problems today. Our plumbers have the experience and training to install, maintain, and service conventional and tankless water heaters. Your Anthony Wimpey Plumbing plumber will ensure your water heater runs for many trouble-free years.
With over 30 years of experience handling Lawrenceville's plumbing problems, we have seen every type of water heater issue. Our years of experience allow us to solve any plumbing problem. We are the plumber that resolves problems quickly and affordably. We take pride in providing solutions to the most challenging plumbing problems.
So, whether your plumbing needs are big or small, residential or commercial, complex or straightforward, or if you want to as a question about your plumbing, contact us today! Call 770-415-8133.
Conventional vs. Tankless
Even though tankless hot water heaters are more efficient than traditional water heaters, we can help you maintain your conventional water heater to operate as efficiently as many tankless hot water heaters. With proper installation and insulation, tank water heaters are affordable. Unlike conventional water heaters, tankless water heaters can require changes to the existing power, gas connections, electricity, and ventilation systems. Tank models, however, Not only lower energy costs but also have lower installation costs. 
Let Anthony Wimpey Plumbing's team of professionals assist you in deciding between a tankless water heater and an electric water heater. Call 770-415-8133 to get in touch.
Reliable Plumbers in Lawrenceville
Call us if you need a new gas water heater installation or an electric water heater replacement. Please schedule an appointment for us to install your new hot water tank. Also, talk to us if you are curious about tankless water heaters. And please get in touch with us when you want water heater maintenance or repair service. Anthony Wimpey Plumbing is the plumbing company to call 770-415-8133 for water heater services.
Whenever you need services in Lawrenceville, Anthony Wimpey Plumbing has the plumbing contractor experts to help. Our plumbers have the experience and knowledge to install, maintain, and repair gas, electric, and tankless water heaters.
Anthony Wimpey Plumbing can help you with water heater installation, repair, maintenance, and more. Our plumber services also include plumbing repair, water leak repair, water heater replacement, water line replacement, and shower leak repair. Any plumbing services you need, please rely on our plumbers –  from sewer line replacement to drain cleaning to leak detection.

Contact Anthony Wimpey Plumbing for Hot Water Heater Service in Gwinnett County
Are you ready for a replacement water heater to be installed, replaced, repaired, or tuned up in Lawrenceville? The friendly and knowledgeable plumbing experts at Anthony Wimpey Plumbing are ready to help. We show up on time and deliver high-quality service. In addition, we can save you time and money when you have leaky water heaters. So, stop looking for a water heater leak repair company and choose Anthony Wimpey Plumbing. For high-quality service, guaranteed, call 770-415-8133 today.