Lawrenceville plumbing repair specialists at Anthony Wimpey Plumbing answer customer questions all the time. And customers ask them the same questions a lot. So, here are the answers to some of the most common questions customers ask about plumbing services.
Plumbing Repair Services From The Best Lawrenceville Plumber
Our plumbing repair services include water heater repair, sump pump repair, garbage disposal services, and services for water leaks. We also supply plumbing drain cleaning services and drain repair service.
How urgent is it to have my faucet repaired? Most of the time, people do not have a sense of urgency about getting a leaky faucet repaired. The most significant issue that might affect you is a higher water bill. However, suppose your tap is leaking around the seal. It could be causing water to leak under your sink, leading to extensive water damage if left untreated. The plumbers at Anthony Wimpey Plumbing can repair your faucet to stop the drip and reduce its potential to cause more problems.
What are the benefits of faucet replacement instead of faucet repair?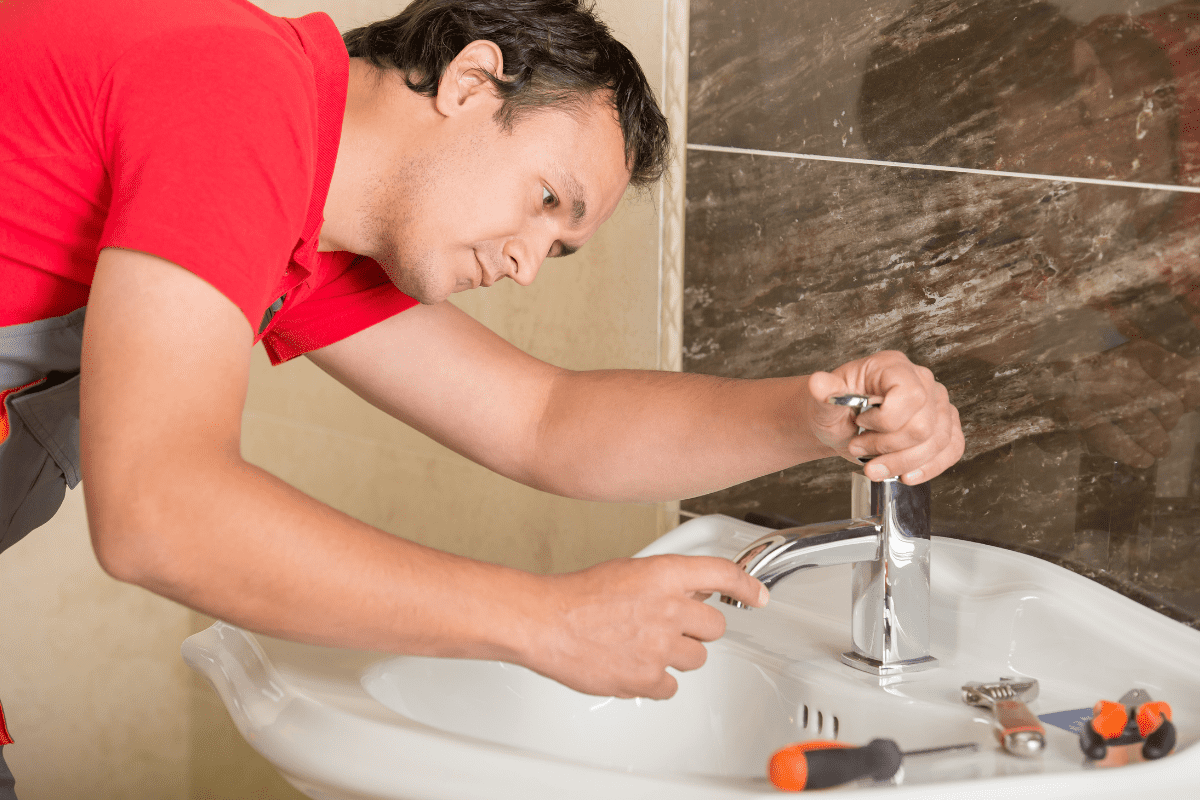 Faucets get a lot of use and experience a lot of wear and tear. Parts can wear out, leading to leaks and reduced water pressure. Sometimes a simple fix like replacing an O-ring can do the trick, but sometimes it is better to go for a new faucet. Replacing a faucet not only addresses the issue, but it offers upgraded parts, a more excellent fixture, and often higher water efficiency. You could also end up saving money. Usually, repairing a faucet is comparable to the cost of replacing it. When you are ready to upgrade to a new faucet and get rid of the old leaky one, call on the team at Anthony Wimpey Plumbing. Our experienced team can swap out an old fixture for a new one and quickly have you back in business.
Who needs water line repair?
Why would someone need water line repair? There are many reasons, including a broken pipe, a leaking joint where two pipes meet, a cracked pipe, and a burst pipe from a freeze. Also, a clog or a line breakdown from age and use. Also, noticing a lack of water pressure points to a potential water line leak.
Any unexpected water that should not be in the middle of your yard, your basement, or behind drywall might be a mystery to you. However, it could be a sign you need water line repair. The expert plumbers at Anthony Wimpey Plumbing can help. Our team of professionals can evaluate the situation and perform the Lawrenceville plumbing repair you need to stop the flow of water where there is a broken pipe.
What is the most common reason for garbage disposal repair?
Garbage disposals are indestructible. But put the wrong piece of food down there, and you will be calling for repair. It might surprise you to learn that the most common cause of garbage disposal breakdown is food that is too big, too hard, or too starchy. Food like that does not chop and process through the mechanism well. And this will jam and break your disposal.
So, what is the best course of action to avoid damaging your garbage disposal? Is to put big pieces of food, including things like potatoes, pasta, and stringy vegetables, in the trash and save the garbage disposal for what you rinse off your plates, pots, and silverware. Should you have an issue with your disposal, the team at Anthony Wimpey Plumbing can help get it back online.
Why do garbage disposals always break on Thanksgiving? Though garbage disposals can break down anytime, the holidays are a popular time for them to stop working. It is due to people using them excessively during their holiday cooking and putting items down they should not. Potatoes and potato peels are a big one during the holidays. Starchy foods such as potatoes can expand when they soak up the water in the drain, causing your garbage disposal and pipes to clog. The plumbers at Anthony Wimpey Plumbing can fix the clog and save the day when this happens.
Plumbing Replacement Services
Why would I need water line replacement?
Lawrenceville plumber, Anthony Wimpey Plumbing, knows all about residential water line replacement services. Your main water line is what carries water into your home's plumbing system. It usually comes from the city lines buried under the streets in your neighborhood. Still, it could come from a well if you live on the property or in a rural area. You need water line replacement when you have issues with the functioning of your water supply.
A water line replacement might answer the problem, whether you have reduced pressure, less water volume than you used to, or leaks or flooding near your foundation. If you feel like you are not getting enough water to meet the needs of your household, the team at Anthony Wimpey Plumbing can help. We can evaluate your water lines and recommend whether a repair can fix the issue or if replacement is necessary.
My garbage disposal makes a "humming" sound but does not move. What is wrong with it?
The disposal is experiencing a jam internally. Therefore, do not try to dislodge anything from the garbage disposal by hand. Doing so is dangerous!
There is a hole on the bottom of the disposal, in the center, that accepts a hex-style key. After turning off power to the appliance, try to work the key back and forth until it spins freely. If this does not work, give us a call for Lawrenceville plumbing repair service.
Why is DIY toilet repair so scary?
Plumbing issues often seem more intimidating than other household fixes, but toilets seem especially so. It is the job they do or the risk of leaks or floods that make it hard to face. Whatever the reason, we are here to help, so you do not have to try to manage it yourself. Typical ways toilets can malfunction include clogs, broken seals, a loose float assembly, worn-out flapper valves, and loose connections. No matter what is going on with your toilet, the plumbers at Anthony Wimpey Plumbing can help if it is not running right.
More Plumbing Service Answers From Lawrenceville Plumbers
What is a backflow preventer, and why is it important?
A backflow preventer works to prevent contaminated water from entering the public's drinkable water supply. Backflow preventers are helpful in residential, commercial, and industrial facilities throughout the United States. Most backflow preventers need an annual evaluation to ensure proper function. By law, only a certified technician can evaluate the device.
How should I prepare before a leak detection service?
Because our leak detection equipment listens for leak sounds, the work environment should be as quiet as possible. Noisy pets, loud equipment, pedestrian and vehicle traffic, and other noises should be limited. Moving furniture and other objects out of the work area may be necessary.
Do I need to disconnect my garden hose before winter?
Yes. Detaching garden hoses will allow water inside the faucet to drain out. If not, the water inside the fixture may freeze. If it freezes, there is no room for the water to expand, and it will burst the faucet. So, in addition to removing the hose from the tap, follow up with a faucet cover.
What is the first thing you look at before designing a plumbing system?
The first thing that we study is the building plans or house blueprint. That gives us an idea of the type and size of pipe we need to use and the procedures we need to follow to design and eventually implement a plumbing system.
What is a tankless water heater?
While most traditional water heaters consist of a primary tank, tankless water heaters are tankless. A conventional water heating system stores water in the tank and reheats it repeatedly to keep a set temperature. A tankless unit is a hot water on-demand system. The components heat the water as it moves through the pipes. When you turn on the hot water tap, the tankless unit heats that water as needed instead of as it sits idly in a tank. Tankless systems are significantly more energy-efficient. They can supply a much more consistent stream of hot water than a traditional hot water heater. Have more questions? The team at Anthony Wimpey Plumbing has answers
Emergency Plumbers and Plumbing Services
What if I have a plumbing emergency? A plumbing emergency can make you feel helpless. At Anthony Wimpey Plumbing, we will not leave you in a bind. Call us if you have an emergency plumbing problem, and we will walk you through the steps to get control of the situation. At the same time, we dispatch one of our plumbers to your location. Our professionals will not leave you high and dry. We will make sure you are safe and that you can turn the water off until we get there.
What time can I expect you to arrive for an emergency call? Or a scheduled call? We have employed plumbers who can make it to an emergency call within the hour. Likewise, our clients who schedule appointments will have a plumber arrive at the scheduled appointment time. Our company is known for polite and courtesy service. Our Lawrenceville plumbing repair company prides itself on being available 24/7, including holidays. In addition, we have plumbers available on call in case of emergency.
Anthony Wimpey Plumbing Services in Lawrenceville, GA
How will I know if Anthony Wimpey can do the job? At Anthony Wimpey Plumbing, we believe it is vital to go straight to the source for information. You will not get a receptionist with only a vague knowledge of plumbing services when you call. Instead, talk to one of our professional plumbers. Our ability and experience mean we can assess the situation accurately from the first phone call. We can help you troubleshoot minor issues for a quick DIY fix or decide if it requires professional attention from one of our experienced plumbers. Our goal is to fix all plumbing problems, no matter how small or big, to exceed your expectations with Lawrenceville plumbing repair.
What areas do you service?
Anthony Wimpey Plumbing has three locations. Our Social Circle location serves the Social Circle, Covington, Conyers, Lithonia, Loganville, Madison, Monroe, and the surrounding areas. The Lawrenceville location serves Lawrenceville, Buford, Suwanee, Duluth, Johns Creek, Norcross, Snellville, Stone Mountain, Tucker, and the surrounding areas. Our plumbers also service the Decatur, GA area.
We have been proudly serving these Georgia communities for over 30 years. Our goal is outstanding customer service to make your life easier. We will gladly work with your insurance company to implement a solution to restore your plumbing system. And we take cash and check both in business and personal form. We will make special arrangements on a case-to-case basis.
Our company is licensed, bonded, and insured. We do not employ technicians or unlicensed employees to complete any job. Our plumbers have started as a journeyman, attended continuing education, and received weekly safety notices throughout the year. In addition, we carry total liability and workers' compensation insurance to protect our clients.
Does Anthony Wimpey Plumbing manage all types of plumbing jobs?
Anthony Wimpey prides itself on managing any plumbing job. Our motto is that if water runs through it, our plumbers can fix it. We have over 30 years of experience serving Covington, Conyers, Monroe, and Loganville customers. From basic faucet repair to water heater installation to complete sewer line replacement, we can oversee any plumbing job that comes our way.
Our plumbers provide Lawrenceville's most reliable plumbing repair, water leak repair, sewer installation, and repair services. But, that is not all. We also supply commercial plumbing service for businesses. And burst pipe repair, gas line repair, water leak repair, and water heater services. From maintenance to replacement to installation to repair service. Call for drain cleaning, water heater repair, or any other Lawrenceville plumbing repair services. Call 770-415-8133.