The water heater plumber Lawrenceville citizens rely on is Anthony Wimpey Plumbing. The professional plumbers at Anthony Wimpey Plumbing provide top-quality water heater services. With decades of plumbing experience, these plumbers know everything about water heaters. They are Lawrenceville's best water heater plumber, from installation to maintenance to repair services.
Best Water Heater Plumber Near Me
At Anthony Wimpey Plumbing, our team has proudly served the Lawrenceville community for almost forty years. We are a family-owned and operated business with winning customer service. So when you need water heater installation, Anthony Wimpey Plumbing has you covered with a free quote.
Call 770-415-8133 now for your free estimate. You can also request an appointment with our online form, and we will get right back to you.
What type of water heater do you want and need? Storage tank units have a tank to keep a hot water supply ready. But tankless ones heat water for you on-demand. There are also solar and hybrid water heaters.
In addition, water heaters run on gas, electricity, or a combination. You can stay with the current energy source or change it when installing a new water heater. We are water heater experts and can help you weigh your options. You will get the best unit possible that meets your needs, suits your lifestyle, and stays within budget with us—Call 770-285-8974 to talk to a plumber today.
Water heaters use a lot of your household energy. Heating water uses much of the energy we use. Eighteen percent of home energy use goes to heat water. Therefore, selecting an energy efficient water heater can significantly reduce your family's energy consumption. Typically, switching to a new power source will add to the installation cost. However, the decision may save you money in the long run on energy costs.
Old water heaters are very inefficient and are good candidates for replacement. Any new water heater will be more energy-efficient than an outdated one. The best part is saving energy and paying lower utility bills for years to come.
Beware Of Loud Water Heaters
Banging can occur when minerals from heated water settle on the bottom of your water heater storage tank. These minerals harden and are known as sediment.
As the water heats up, air bubbles get trapped in the sediment, making popping and knocking noises as they break free.
When you hear these loud tank noises, a water heater replacement service is just around the corner. When sediment hardens, a catastrophic leak is on the horizon. Plumbers see water heater sediment problems every day in Lawrenceville.
Orange Hot Water Means Water Heater Installation Service
Is your water orange? The color change might be from dirt in the lines. But if you notice, the peach-tinted water is coming from the hot top only, likely due to rust. 
Rust in the hot water supply is likely coming from a tank water heater. Rust and corrosion severe enough to make the water turn orange compromise the tank's integrity. 
So, that will make the water heater tank fail. Failing for a water heater tank means it will spring a leak. When a tank water heater leaks, it is time for a replacement water heater.
Call Lawrenceville Plumbers For Leaking Water Heater Services
Sometimes water heater leaks are easy to spot, like when gallons of hot water flood your home. However, a water heater leak may come in different forms.
For example, steaming water heaters are leaking. Therefore, do not think that steam around a water heater tank is ok. It is not.
Hot water is escaping from the tank water heater somewhere. It may be a hairline crack allowing the moisture to escape. The problem is that tiny water heater cracks that worsen with time can become catastrophic leaks.
So, call a plumber whether you notice steam, condensation, or pooling around your water heater tank. It is the only way to prevent a pending complete water heater failure.
Plumber For Tankless Water Heaters
Tankless water heaters are popular, and for a good reason. As the name indicates, tankless water heating systems do not rely on a tank. Instead, they only heat water on demand and have many benefits over traditional tank water heaters.
When you turn on the hot water in a tankless system, the water is not pre-heated. Heated water is not ready in a tank for you to use. Instead, a gas burner or electric heating element heats the water quickly as it flows to the faucet. The benefit is a massive increase in energy efficiency.
Our plumbers can install tankless water heaters for you. So, please give us a call when you need our installation service. We also repair tankless water heaters.
Did you know that conventional storage-tank water heaters last 10 to 12 years? But tankless water heaters are running commonly for 20 years and up. That goes for gas tankless water heaters and electric tankless water heaters.
Plumbing Repair Services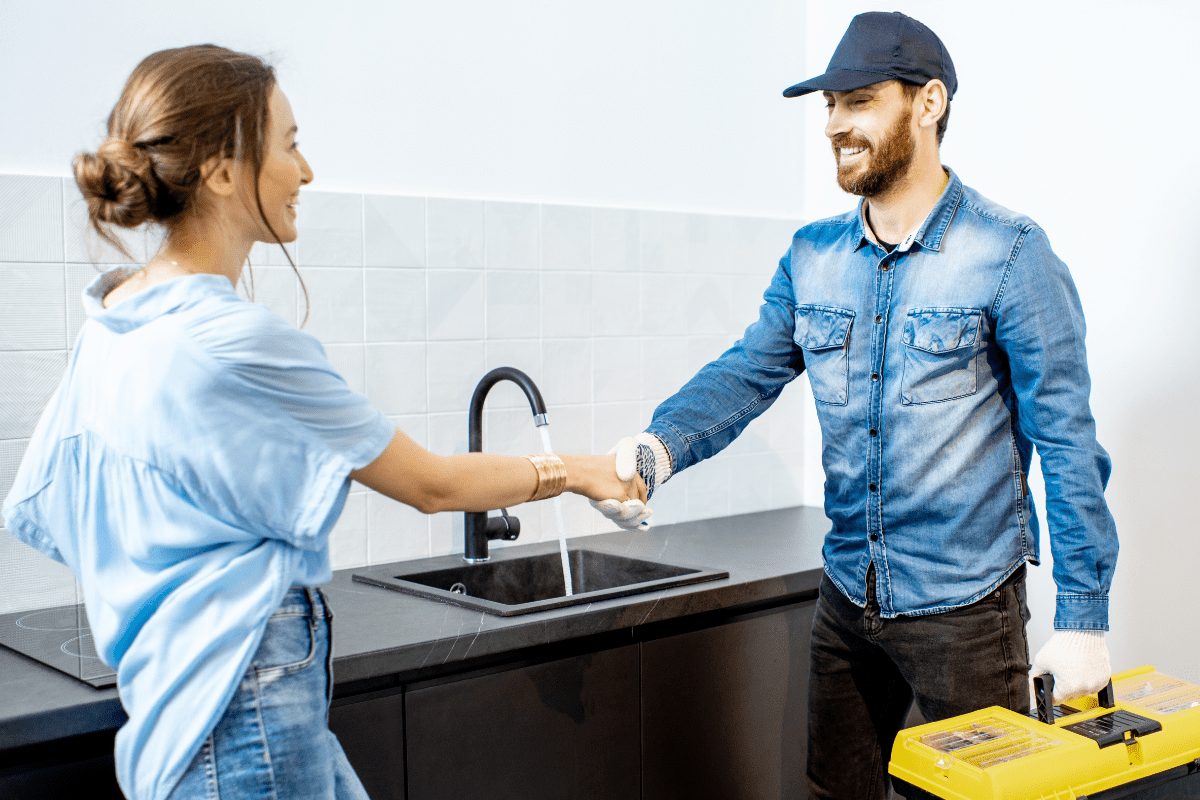 Your Lawrenceville plumber is Anthony Wimpey Plumbing. Our services include water heater repair, water heater installation, plumbing repair, water leak repair, and water line repair services.
Sizing Water Heaters
The space you have at your home for a water heater is important. Modern water heaters come in various sizes and silhouettes. A unit with a compact shape might be what you need to fit in limited space.
Consider medium-sized tank water heaters as well as the standard large sizes. Size a tank water heater based on the amount of hot water you use. They range from twenty gallons to eighty gallons in size.
For a household of two to three people, a 50-gallon storage tank water heater is adequate in most cases.
For larger families, add ten gallons for each additional person to estimate the capacity that will work.
The suitable water heater capacity will supply enough hot water for the needs of your household.
As far as tankless water heaters, their capacity is gallons per minute or flow rate.
To find a tankless unit with the correct flow rate, you will have to figure out the maximum number of gallons per minute you may need at one time.
Contact Us
We serve Lawrenceville, Buford, Suwanee, Duluth, Johns Creek, Norcross, Snellville, Stone Mountain, Tucker, and the surrounding areas.
Our address is 4850 Sugarloaf Pkwy. Suite 209-168, Lawrenceville, GA. 30044, and our phone number is 770-415-8133. Call us today for professional plumbing repair services.