The shower faucet replacement Lawrenceville homeowners need is fast and affordable. The shower faucet is essential to our daily lives. So, whether its a quick morning rinse or a long evening session, you need it to work. However, like all fixtures, it may develop problems over time. And these problems sometimes necessitate a shower faucet replacement. This article will discuss some common shower faucet issues in Lawrenceville, GA, and why hiring a professional plumber is crucial. You will also get tips on finding the right local plumber. In addition to learning the benefits of professional shower repair and installation services.
Low Water Pressure and Other Common Faucet Issues in Lawrenceville, GA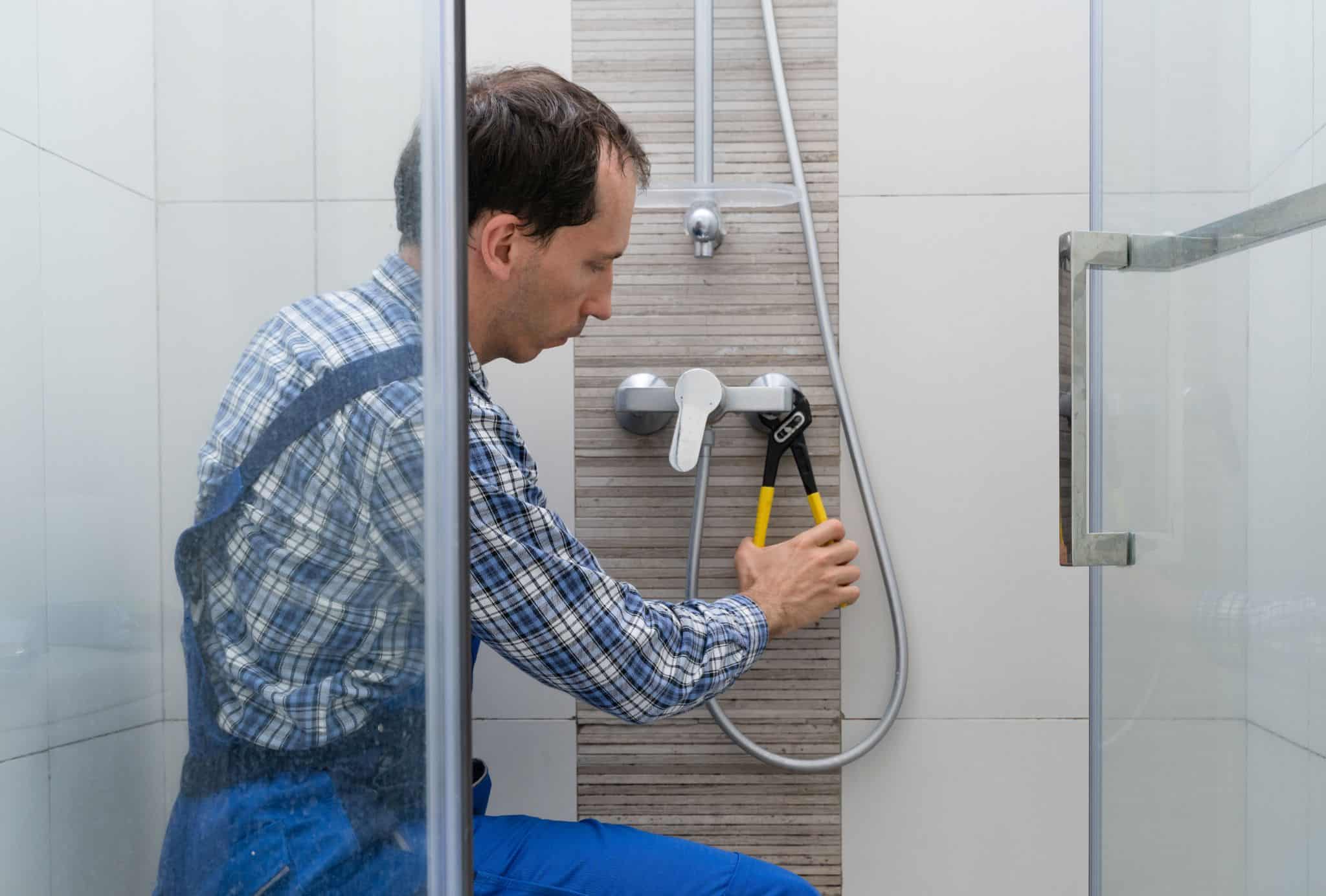 There are several common shower faucet problems that homeowners in Lawrenceville, GA, may encounter. These problems can range from minor inconveniences to significant water damage if not addressed promptly. Some common issues include:
Leaky faucets: A faucet leak wastes water and raises your water utility bills. A  faucet or plumbing leak can also cause water damage to homes and businesses. And water damage can be extensive when it is unnoticed for an extended period.
Low water pressure: A weak or inconsistent water flow is unpleasant. But, however, a reduction in water pressure can indicate underlying plumbing issues. For example, it may be due to a clogged or damaged showerhead, a problem with the water main, or issues with the plumbing system. Often, low water pressure is a symptom of more significant plumbing problems like hidden water leaks. Pipe corrosion, drain or sewer line clogs, and cracked or blocked sewer lines may also be the problem.
Temperature fluctuations: If your shower water temperature constantly changes, it could indicate a faulty diverter or mixing valve. Another reason for water temperature irregularities may be a water heating problem. That can be a faulty water heater thermostat, for instance.
Benefits of Professional Lawrenceville Plumbing Repair and Installation Services
There are several advantages to hiring a professional plumber for your shower faucet replacement needs in Lawrenceville, GA. Some of these benefits include:
Expertise: A professional plumber has the knowledge and experience to diagnose and repair shower faucet issues. They can also recommend the best replacement options for your needs and preferences.
Efficiency: A skilled plumber can complete the job quickly and efficiently, minimizing disruptions to your daily routine and ensuring your shower is back in working order as soon as possible.
Safety: Plumbing repairs and installations can be dangerous if not done correctly. A professional plumber will ensure all work is safe and up to code, protecting your home and family.
Warranty: Many professional plumber fixture manufacturers provide warranties on their products. However, to remain under warranty, many manufacturers require professional installation. Hiring a qualified installation plumber will ensure these warranties stay intact for peace of mind.
Why Hire a Professional Lawrenceville Plumbing Company for Shower Faucet Replacement?
While some homeowners may consider shower replacement a DIY project, hiring a professional plumber is always the best choice. A professional plumber has the necessary training, experience, and tools to do the job correctly and safely. They can also diagnose and address any underlying issues that may be causing your shower faucet problems. Than can prevent future plumbing repairs and save you money.
There are several factors to consider when searching for a reliable Lawrenceville plumber for your shower faucet replacement. One of these factors is experience. Look for a plumber with experience in shower faucet replacement and a record of satisfied customers. Reading reviews online is an excellent way to check out a plumber. Find a plumber current on the latest industry standards and best practices for the best results.
Turn to online reviews for references from previous clients. Then sort reviews to read the best, worst, and most recent reviews. That is a quick way to get a picture of a plumber's work quality and customer service. For additional insight, you can also check plumbing company websites for customer reviews and testimonials.
To ensure that you find a trustworthy and skilled Lawrenceville plumber do the following three things. First, ask for recommendations from friends, family, or neighbors who have had similar plumbing faucet work done. Then, research potential plumbers online, paying attention to reviews and testimonials. Also, be sure to talk recommended plumber you select to get a quote and to check their customer service.
Plumbing Repair Services Near You
There are many bathroom plumbing repair services professional plumbers offer. Lawrenceville homeowners may need toilet repair, leak repair, faucet repair, or tub repair. Faucets sometimes have parts that wear out and need replacing. And in those cases, a replacement part will fix the faucet. Other times a faucet repair services will not fix the issue.
Drain cleaning services can take care of a single slow or clogged bathroom drain. Drain blockages in the bathroom happen when hair, soap scum, and other debris accumulates. Routine drain cleaning is a proactive solution for drain clogs.
Multiple clogged or slow drains in a home often are due to a sewer line problem. Call a sewer repair plumber to prevent a sewage backup in your home. In addition, a sewer backup is likely when drainage problems start in a home's lowest drains.
Sump pump repair or replacement services will fix a failure. Common reasons for sump pump failure are stuck switches and discharge line clogs—other sump pump malfunction due to poor installation and simple old age. In addition to shower faucet replacement, a professional plumber can also assist with other shower and bathtub repair needs. These services may include showerhead repair services.
Bathroom Installation Services in Lawrenceville, GA
If you want to upgrade your bathroom with fixture installation services, a professional plumber can help with the entire process. Kitchen and bath installation services include:
Toilet Installation Service
Shower Door Installation
Vanity Installation Service
Sink and Faucet Installation Services
Showerhead Installation Services
Backsplash Installation
Lighting and Ceiling Fan Installation
Cabinet Installation Services
Countertop Installation
Flooring Installation
Door Installation
Bathtub Installation and Replacement Considerations
When it comes to bathtub installation and bathtub shower installation, there are several factors to consider, including:
Space and layout: Ensure that your desired bathtub or shower fits comfortably in the available space and is compatible with your bathroom's design.
Style and materials: Choose a bathtub or shower style you like. And look for bathroom fixtures that are functional, durable, and high-quality materials.
Plumbing and electrical: Make sure your new bathtub or shower is compatible with your existing plumbing and electrical systems or be prepared to make any necessary upgrades.
The Importance of Hiring a Professional Plumber in Lawrenceville, GA
In conclusion, hiring a professional plumber for your shower faucet replacement needs in Lawrenceville, GA, is essential to ensure the job is done correctly, efficiently, and safely. A skilled plumber can diagnose and address any underlying issues, provide expert guidance on the best replacement options, and complete the job quickly and with minimal disruption to your daily routine. By taking the time to research and choose a reliable Lawrenceville plumber, you can enjoy the peace of mind that comes from knowing that your shower faucet replacement project is in the best hands possible.
Rely On Anthony Wimpey Plumbing
When you make an appointment with Anthony Wimpey Plumbing, we show up on time. We put our local plumbing understanding to good use with a comprehensive range of professional plumbing services. From drain cleaning and sewer line repair to water heater installation, we have the knowledge you need to get it done. Anthony Wimpey Plumbing press releases have more professional plumber tips and advice.
If water runs through it, our plumbers can fix it. Our plumbing services are available throughout Gwinnett in Lawrenceville, Peachtree Corners, Duluth, Suwanee, Snellville, Norcross, Lilburn, and nearby local communities. Call 770-415-8133 for service.