The water heater repairs Lawrenceville wants are fast, reliable, and affordable. Water heaters play an essential role in keeping your home comfortable. Unfortunately, when they break, they can also severely threaten your family's safety. That is because broken water heaters can produce harmful gases, like carbon monoxide, that may cause severe illness or even death. If you suspect your water heater is defective or broken, you should act as soon as possible.
Lawrenceville Water Heater Repair
Water heater repairs have many benefits over replacing them with a new model. For example, repair services include replacing old or worn-out parts at a fraction of the cost of new models. This means that repairs often cost much less than replacement services do. Repairing your water heater instead of replacing it can also safeguard the health of those who live in your home from dangerous chemicals released by broken models.
If you own a property in Lawrenceville, you probably know the importance of a functioning water heater. Since most water heater-related problems happen inconveniently, the experts at Anthony Wimpey Plumbing provide quality water heater repair services in Lawrenceville, GA. We are Lawrenceville's home plumbing repair service with fast, friendly plumbers.
Only a professional plumber can ensure you get the most out of your water heating system. However, the reality is that we rely on the water heater for various uses, from washing laundry to dishes to bathing. So it is essential to regularly maintain them. This is an excellent way of ensuring that minor problems do not grow to a point where you require water heater replacement. Regardless of whether you are using a gas water heater, electric water heater, tankless, or traditional storage tank model.
What is a Water Heater?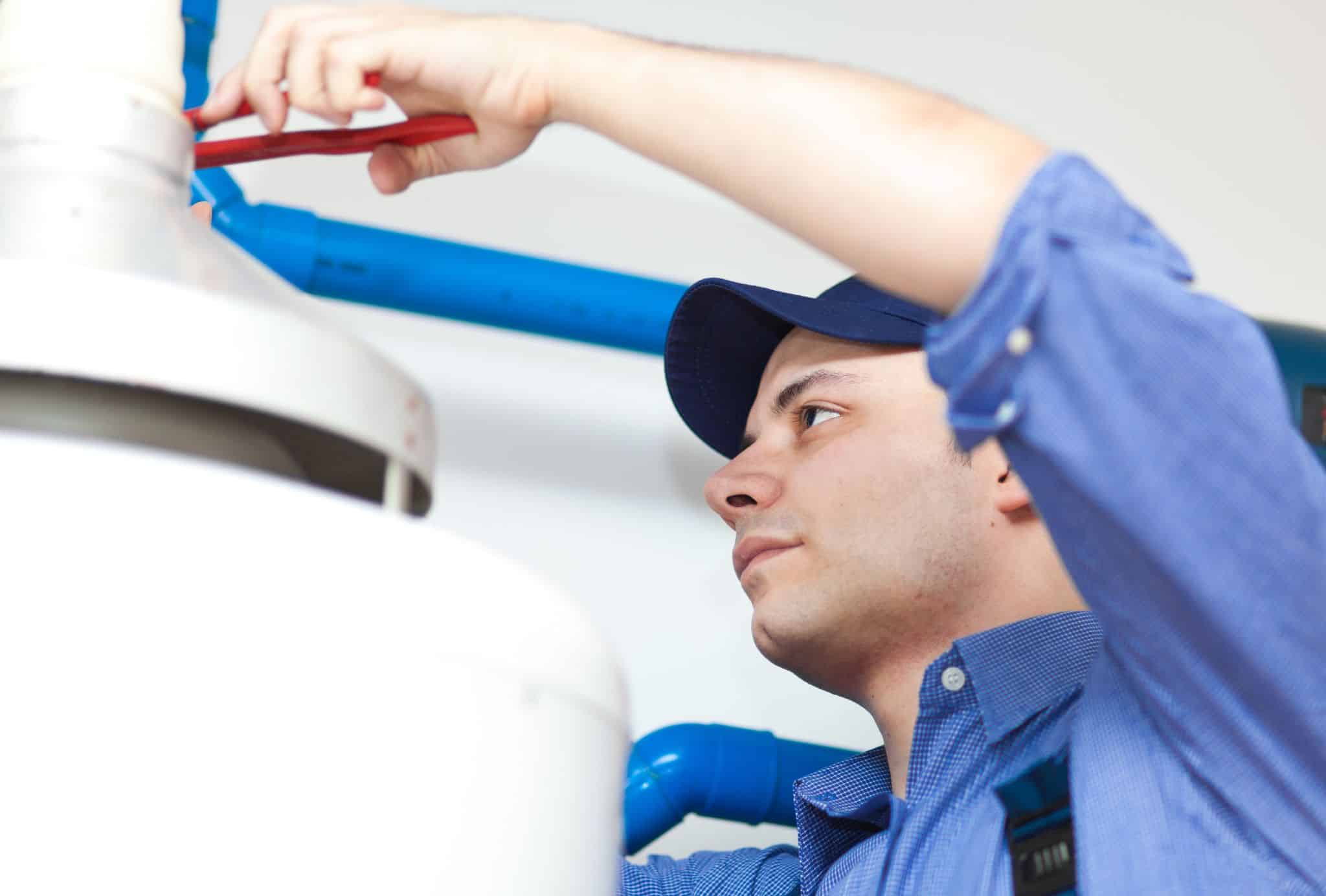 Simply put, a water heater is a device for heating water. These appliances are either electric or gas-powered. While they are generally inside the house, they are also found outdoors for industrial purposes, such as in factories.
Water heaters are one of the most frequent home appliances with plumbing service problems in the United States. The problem is that you may not know your water heater is wearing out until it stops working. And the natural way of knowing when they are faulty has no hot water. If your water heater breaks, you must call a plumber to repair or replace it immediately to protect your family from health risks.
Types of Water Heaters
Conventional Storage Tank Water Heaters
The most common water heaters in the U.S. are this type. These units store 30 to 90 gallons of hot water in a huge tank keeping a reserve of hot water ready for use. With regular maintenance, draining, and flushing, you can expect a tank water heater to last anywhere from 8 to15 years.
Tankless Water Heater
The tankless water heater is a relatively new type. These appliances heat water using electricity or natural gas and can be more efficient than traditional models. That is because they do not have a tank of water keep hot. Instead, tankless units heat water when you need it without worrying about running out of hot water. And these units can last 20 to 30 years.
Electric Powered
Tank and tankless models can run on electricity and, as such, can be the right choice for homes with electrical power. They are the most convenient type of water heater installation because there is no need to install gas lines and gas connections.
Gas Fired
Natural-gas water heaters use less energy and cost less to run than electric water heaters, but gas models can cost more at the time of purchase. Tankless models are best for homes using natural gas to heat water; electric model installation can require an expensive electrical panel upgrade.
How a Water Heating Works
Storage tank water heaters consist of an insulated tank that stores heated water. Hot water emerges from a pipe on top of the water heater and travels to your tap. The tanks are made of a durable and non-corrosive material that can withstand the pressure and temperature of the system. The amount of water you store in the tank is the deciding factor regarding how much hot water you can use at one time.
Warranty coverage for tank water heaters lasts for 3 to 12 years. The longer-warranty units tend to cost more upfront. But you are paying for more powerful burners or heating elements for faster water heating. And water heaters with 10 to 12-year warranties typically have thicker insulation for less heat loss. Choosing a water heater with the most extended warranty available is an intelligent decision.
Water Heater Repair, Water Heater Replacement, and Water Heater Installation Service
When water heaters break, you want to know if you need a water heater repair service instead of a replacement. While it is possible to repair a water heater, it is a complex process and should only be attempted by a professional expert. That is because repairing a water heater requires special training, skills, and tools.
However, in many cases,  water heater repairs and better instead of water heater replacement services. Replacing your water heater "doesn't require the removal of a piping system," which means that it is faster and requires less work. That said, even when replacing a water heater, it is essential to remember that the new model will be more efficient than the old one. Water heater installation service does not have to be unaffordable. We will work with you to find the most affordable service option for you.
Water Heater Repair Lawrenceville
When water heaters leak or have other issues, you want to know if water heater repairs Lawrenceville are a possibility. That is because repairs for water heaters can save you a lot of money compared to replacing them with a new model. Repairing your water heater is the best option if the issue is simple, such as a bad part. For example, if your water heater has a faulty valve, replacing it with a new valve may repair the issue. In many cases, repairing a leaking water heater is impossible.
If your heater is broken, you want to contact Anthony Wimpey Plumbing to inspect it and give you an estimate. Unfortunately, the reality is that not all plumbers are affordable and reliable. But we are the local plumbing company you can trust in Gwinnett County.
Anthony Wimpey Plumbing Quality Lawrenceville Plumber Service
The good news is that even though water heaters are a significant investment, they can last a long time with proper care and maintenance. That is why they must be taken care of properly. Old rusty water heaters can be dangerous and even fatal, so it's essential to know if they can be repaired instead of replaced. If you suspect your water heater is defective or broken, you should act as soon as possible.
Water heater repairs have many benefits over replacing them with a new model when repairing a hot water heater is possible. Repairing your heater instead of replacing it can also safeguard the health of those who live in your home. Protect your household from the stress of being without hot water by maintaining your water heater. If you own a property in Lawrenceville, you probably know the importance of a functioning water heater.
Do you need a Lawrenceville plumber to call for emergency water heater service when you have no hot water? Yes, you do. So, when you need professional plumbing experts to repair your hot water heater, please request service.
Our plumbing services include emergency plumbing, leak detection, leak repair, shower repair, water line repair, and general plumbing service. In addition, we provide sewer line installation, faucet installation, toilet installation, and water line installation service. We are fast, reliable, helpful, and capable – everything you want a plumbing company to be. So the next time you need water heater repairs Lawrenceville, call us. Please contact us and call 770-415-8133 to let our expert local affordable plumbers near me help you.