Tankless water heater, Johns Creek, or. a storage-tank water heater? That is the question a lot of people ask Anthony Wimpey Plumbing. However, when it is time to replace your old storage-tank water heater, there are decisions to make.
The same goes for those needing a water heater installation for new construction. First, you should consider whether to stay with a traditional storage-tank water heater or switch to a tankless heater. As with any significant equipment decision, each choice has pros and cons.
Appreciating the on-demand hot water luxury takes only one cold-water blast from your shower. But unfortunately, a failing water heater can make for rude awakenings at home and slow daily operations that need hot water for sanitizing, cleaning, and cooking.
Find out how to Avoid Water Heater Repair in Johns Creek.
Tankless Water Heaters, Water Heater Installation, And Unlimited Hot Water in Johns Creek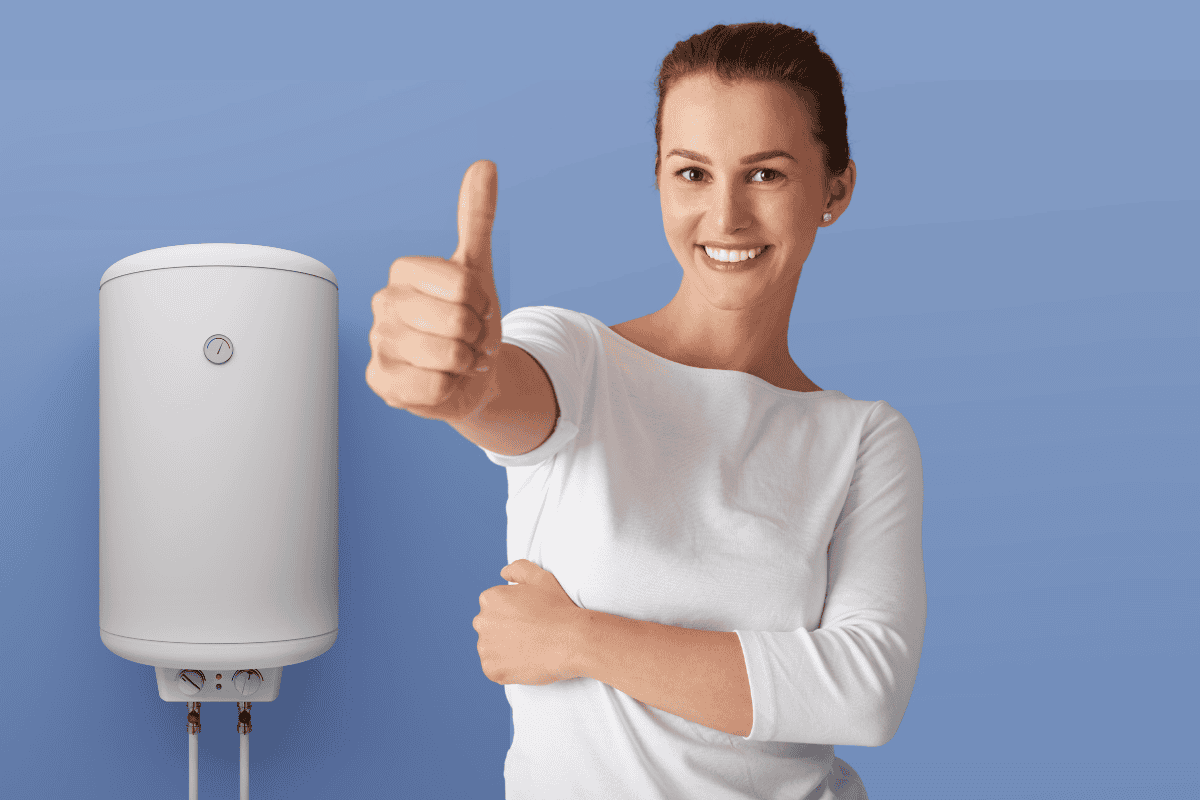 Storage tank water heaters are still the newest installations in the U.S., according to the U.S. Department of Energy (DOE). However, tankless water units are rising in popularity due to the heightened awareness of energy consumption and sustainability importance in general.
Tankless water models are not a new concept. Patent applications for "continuous flow" water heaters in the U.S. date back to the late 1920s.
Tankless water systems do not hold hot water; cold water flows into the unit and is heated only when needed. That can save energy in two ways. First, there is no need to heat gallons of water when there is no immediate need. Also, tankless units eliminate standby heat loss in which a tank loses heat to its surroundings.
Guess what, Johns Creek? Tankless water heating units come in gas and electric models. Either way, they cannot run out of heated water because of their continual flow feature. So a shower, two more showers, and dishwashing will not exhaust the supply.
Johns Creek Storage Tank Water Heaters Explained
Storage tank heaters come in various sizes, from tiny point-of-use heaters of about 6 gallons to commercial ones that hold 100 to 120 gallons. Understand your water usage and patterns to purchase the size you need. Like the tankless water heater, they also come in gas and electric versions.
How does a storage-tank water heater work? Water is in a tank at a consistent temperature. That makes delivery of hot water to your tap almost immediate. Instant hot will flow until the tank runs out of water. Then, when it needs to refill and reheated, you will have to wait a long time in most cases. 
On the other hand, tankless heaters feed cooler water through pipes and a heating element. That can sometimes mean a delay before the continuous feed of hot water begins to flow.
Water Heater VS Tankless Water Heater Considerations
Johns Creek Water Heater Experts Explain Your Options is an earlier post that you may want to read. Continue reading here to learn more about
Water Heater Replacement Savings
The DOE says that tankless water heaters improve energy efficiency somewhere between 8% and 34% over storage tank heaters, depending on the amount of water usage. However, you can enhance storage-tank water heater energy efficiency somewhat with insulation.
Some models come with extra insulation. For others, purchase an insulation blanket or insulating jacket to wrap your water heater. Ensure that the blanket or jacket applies to your type of storage tank heater – gas or electric.
The savings associated with tankless water systems will vary from one Johns Creek customer to another. However, the reduced energy use will lower your utility bills. Also, tankless water heaters have a longer lifespan than storage tank heaters. It is over 20 years, compared to ten to fifteen years at best for storage tank units.
Water Heater Installation And Water Heater Replacement Costs
If you are dealing with an emergency replacement of a failed water heater, you are not alone. Water heater tank leaks can be disastrous. So, sudden failure is the top reason people replace their hot water heater, Johns Creek.
You might be thinking about going with a tankless water heating installation service. However, when you need an emergency water heater installation, quickness is the top priority. So, for emergency installation services, staying with what you have (tank or tankless and gas or electric) can have you in hot water faster.
Is The Cost of a Tankless a Pro or a Con in the Johns Creek Area?
Storage tank units and full-size tankless heaters are comparably priced, though gas heaters of both types are more expensive than electric. However, installation can be more costly for a tankless heater. In addition, changing from a storage-tank water heater to a tankless water unit often requires an upgrade to gas or electric service and a plumbing retrofit.
But do not let tankless water heater installation costs discourage you. There are definite advantages when you are tankless.
Other Water Heater Tank And Tankless Information
Sometimes hot water delivery can be uneven with a tankless heater, and multiple, simultaneous hot water demands can stretch their capability. To avoid this problem, consider the "temperature rise" component when choosing a tankless unit. That number shows how many degrees the unit can heat the water based on a particular flow rate, represented as gallons per minute (GPM).
Are you looking for a small tankless water heater? Tankless heaters are more petite than storage tank heaters. Full-facility tankless heaters typically fit on a wall and are less than 2 feet wide and 3 feet high, compared to storage tank heaters that can be at least 5 feet high. Undersink electric tankless water heater Johns Creek is even smaller and can deliver hot water to smaller areas, such as an eye and face wash station in commercial locations.
Finally, a power outage will likely leave Johns Creek tankless users with cold water. Therefore, even gas-powered tankless heaters need an electronic control panel.
Water Heater Services From The Best Plumber Near Me Johns Creek
To learn more about our Johns Creek water heater services, look at our Johns Creek Plumbing Services. We do it from water heater repair service, tankless installation service, and many other plumbing services.
For example, we provide water line repair service and water line installation service, sewer line repair and installation service, and plumbing repair service all over the Johns Creek area.
Remember at Anthony Wimpey Plumbing – If Water Runs through It, Our Plumbers Can Fix It!
So, Do you Need Water Heater Installation from a Hot Water Heater Plumber Near Me?
Contact us today. We offer gas line repair service, water heater repair service, commercial water heaters, and water heater replacement service.
Please Call Us at 770-415-8133 to Speak to a Plumber Now.