Plumbing companies, Lawrenceville, are not all the same. Anthony Wimpey Plumbing is the top choice in plumbing companies for Lawrenceville residents who need all types of plumbing services. We specialize in supplying quality plumbing services at affordable prices. Whether you need a simple repair or a complete installation, we will get the job done right. From our friendly staff to our honest plumbers, we ensure your experience is exceptional. Anthony Wimpey Plumber is a family-owned business and the leading provider of plumbing services in Lawrenceville.
A plumber near me, Lawrenceville, is what you need when the plumbing breaks down in Gwinnett County. But when you want to update or upgrade a plumbing system or appliance, you also need the best plumbing companies near me—Call 770-415-8133 for Anthony Wimpey Plumbing in Lawrenceville.
We offer plumbing services, including water heater installation, drain cleaning, sewer repair, and installing electric and gas tankless water heaters. We also supply leak detection, leak repair, and water line repair. In addition, we offer slab leak restoration and sump pump services. While some plumbing companies overcharge for their services, we are the Lawrenceville plumbers who offer exceptional value and quality. In addition, we provide free estimates, so contact us today for all your plumbing needs.
One of the most important things to keep in mind about your plumbing system is that it needs to meet the needs of your household. Depending on the size of your family and the demands you put on your plumbing system, you may have outdated or undersized pipes. We are the solution when you look for plumbing companies Lawrenceville recommends. We can upgrade and update your plumbing system with water line replacement services.
Why Is Important To Find Quality Lawrenceville Plumbing Services?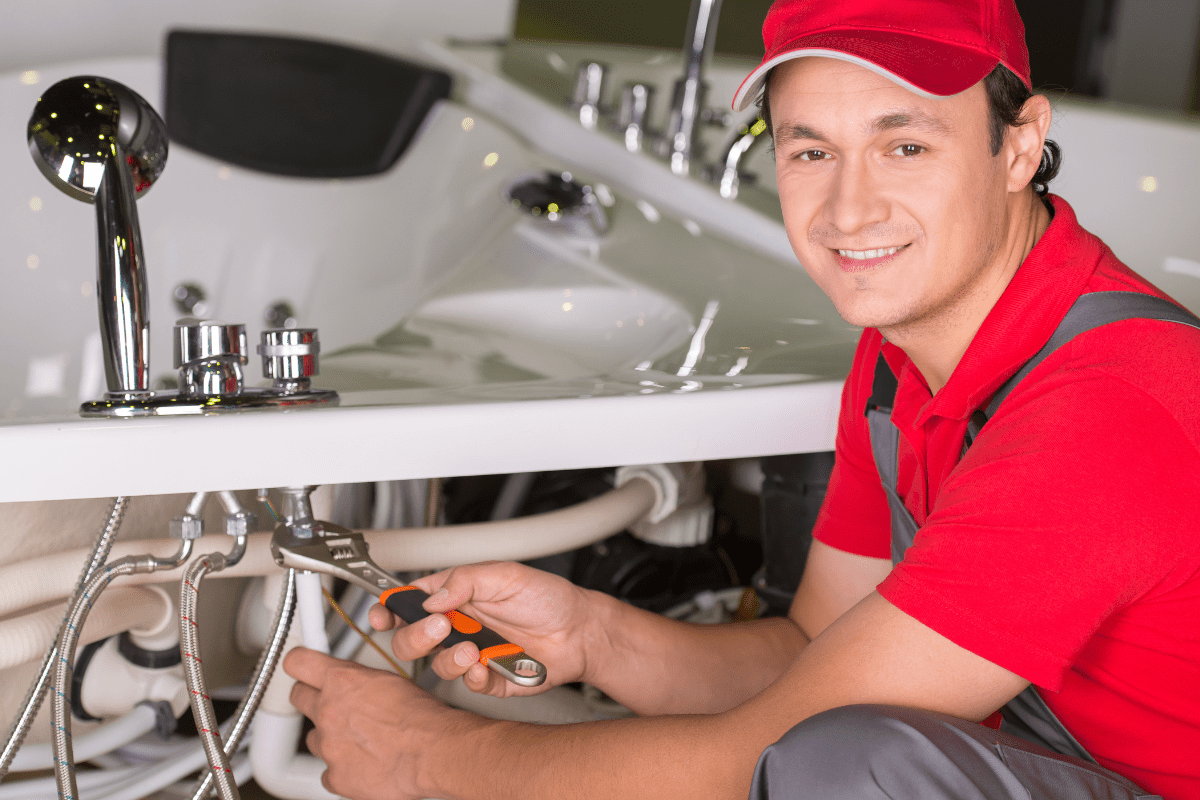 Some plumbing issues are minor, like an occasional toilet that needs plunging you can handle. However, you need to have a good plumber for assistance with something like water heater repair. In addition, there are times when seemingly minor plumbing issues, like a pinhole leak in a pipe, can cause significant water damage inside your home. In these cases, you will want to have a dependable and professional plumber service to help you.
Our plumbers can inspect your plumbing system and find any issues. For example, a leaky pipe, clogged toilet, or broken garbage disposal can all be repaired by our skilled plumbers. Any of our plumbers can also install new plumbing fixtures, like toilets and sinks. that can add value to your home.
Lawrenceville plumbing company, Anthony Wimpey Plumbing, offers water heater installation, garbage disposal installation, faucet repair, and tankless water heater repair. The team at Anthony Wimpey Plumbing knows that it is hard to go without working plumbing for any length of time. So, they make a conscientious effort to help their customers as quickly as possible. Our local plumbing service has been serving the needs of homeowners in Gwinnett County for over 30 years. And our plumbers are more than able to help our customers with any plumbing issue.
Why Do You Need a Plumber for Services in Lawrenceville?
We all deal with plumbing issues now and then. But when the system starts to fail, you need a professional to come and fix it. The sooner you call in a plumber, the less you will have to worry, and the sooner you will have working plumbing. A plumbing company can come to your home and fix any issues with your plumbing. You do not need to take time off work or miss school because of a plumbing problem. Plumbers can also provide preventative maintenance services. These services help you keep your plumbing system in good working order.
Why Choose Anthony Wimpey Plumbing for Your Plumbing Service Needs?
Anthony Wimpey Plumbing is the top plumbing company in Lawrenceville. We have served thousands of customers in the area for over 30 years. We understand how important your plumbing system is to you. So, our team will ensure that your plumbing problem is fixed quickly and efficiently. In addition, we strive to provide our customers with quality service at affordable prices.
We offer plumbing services, from installing garbage disposals to repairing leaking pipes. We can also provide a free estimate on any job. In addition, we care about our customers and will go the extra mile to help you with any plumbing issue.
The Different Types of Plumbing Services in Lawrenceville
There are many different types of plumbing services that a Lawrenceville plumber offers. Depending on the problem your plumbing is experiencing, you might need one type of service more than another.
Drain cleaning – This service is necessary to keep your pipes clean. Clean pipes help to prevent blockages in the system and leaking pipes.
Sewer repair – This service is necessary to repair broken sewer pipes. Broken pipes are dangerous and can end up flooding your property.
Leak detection – This service's purpose is to detect leaks in the system. Leaks in the system can damage your pipes and cause flooding.
Plumbing inspection – The inspection service is ideal for identifying any issues with your plumbing system. An inspection can also help you determine what service you need.
Contact The Best Of The Lawrenceville Plumbing Companies
At Anthony Wimpey Plumbing, we have served the plumbing needs of Gwinnett County homeowners for over 30 years. We are a dependable Lawrenceville plumber with an excellent reputation for quality work. Our team of licensed, insured, and trained plumbers are ready to help you with all your plumbing needs.
When it comes to plumbing in Lawrenceville, we are the experts. Our team has years of experience working on all types of plumbing systems. We will get your plumbing system working again in no time. Our plumbers proudly serve Lawrenceville residents and businesses. We are the best of the plumbing companies Lawrenceville has to offer. Our staff cares about our customers, and we make sure to provide them with the best service possible. Please, depend on us for plumbing repair, replacement, and installation jobs. We are known for our high standards in providing exceptional service. Call us at 770-415-8133 if you need a reliable and affordable plumbing service provider.