An affordable plumber near me, Gwinnett, is what you need when you have a plumbing issue in Gwinnett County. Whether you need a plumbing repair or want to update your plumbing fixtures, the best plumber near me in Gwinnett is a call away. To upgrade to a tankless water heater or unclog a toilet, call 770-415-8133 for Anthony Wimpey Plumbing in Gwinnett. 
Gwinnett plumbing company, Anthony Wimpey Plumbing, specializes in water heater replacement, garbage disposal repair, sewer line repair, and drain cleaning. The plumbers at Anthony Wimpey Plumbing know that people in Gwinnett County, GA, need reliable access to hot water.
So, residents, we will act fast when you have a hot water heater problem. Our plumbers have one goal in mind. And that is to get your water heater replacement up and running as quickly as possible. This local family plumbing service has served the needs of homeowners all over Gwinnett for over 30 years. The pros at Anthony Wimpey Plumbing are here 24/7 to help with all plumbing-related issues.
Our service area includes Gwinnett County, Buford, Duluth, Lawrenceville, Norcross, Peachtree Corners, Snellville, and Suwanee. We are the top choice for plumbing services in surrounding Gwinnett areas, from Berkley Lake to Dacula.
Skilled Gwinnett Plumbers And Quality Water Heater Repair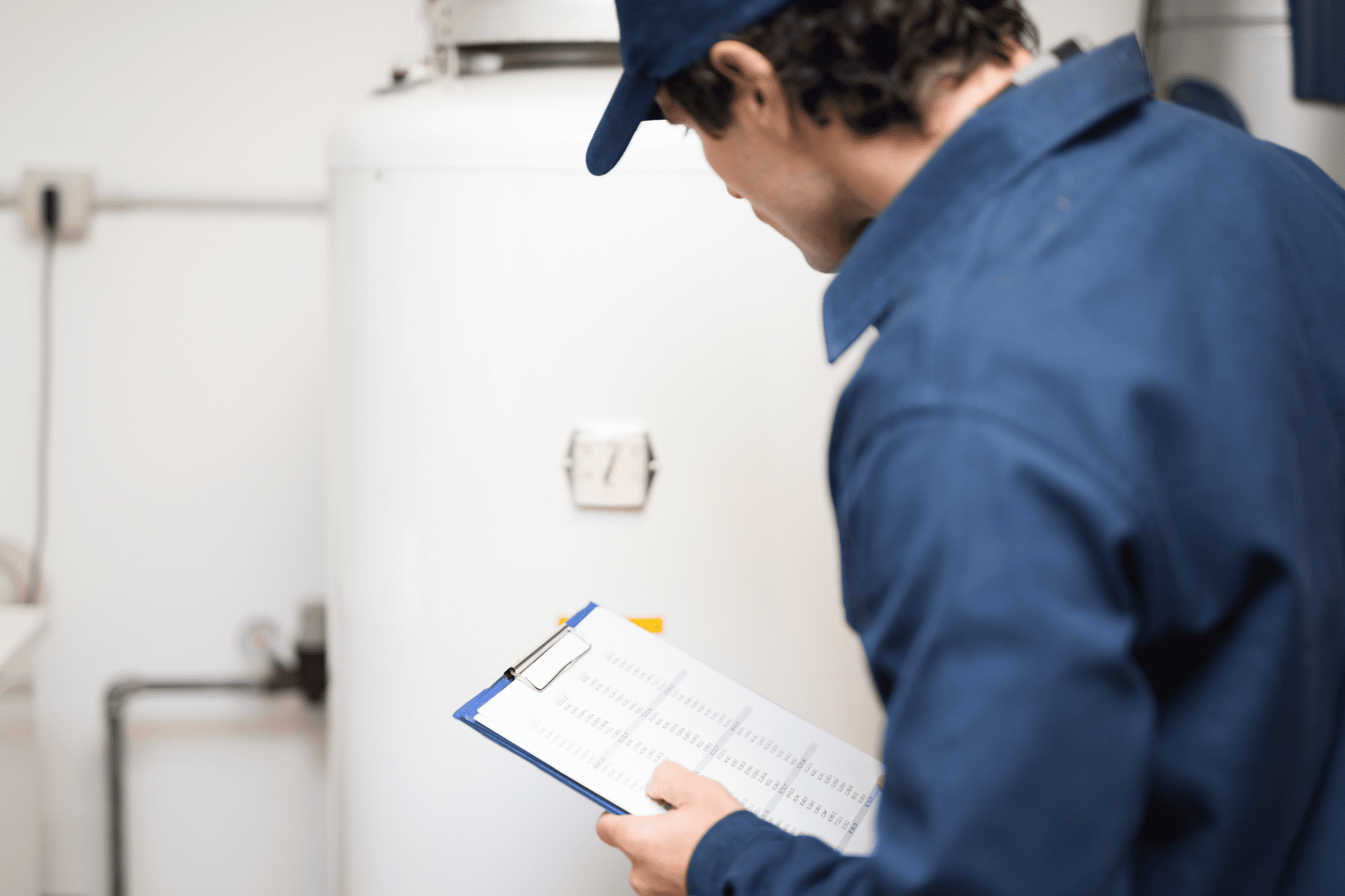 Having no hot water is not a minor inconvenience. It is a significant problem that requires immediate attention. So, when most homeowners call a plumber for water heater problems, they need help now. No one wants to wait around for days for a plumber nearby to have time to work on their water heater.
That is why when you call Anthony Wimpey Plumbing with a broken water heater, you will get help as soon as possible. Most of the time, our plumbers can help you the same day you call us. We would love to have your water running again the same day you contact us. That is what we will try to do.
Repairing water heaters is what these professional plumbers do when they can. Watching online water heater repair video tutorials is an exciting way to pass the time. However, please do not try to fix your water heater.
Hot water heater installation and repair are complicated and not DIY projects. It requires industrial tools, advanced technical plumbing knowledge, and electrical wiring skills. Also, gas water heaters require working with gas lines. Gas line work requires more specialized tools, training, and added skills to do safely.
Attempting to repair your water heater on your own can worsen the situation. For instance, improper installation can cause further damage. Additionally, water heaters can become extremely hot or reach high pressures, resulting in water damage, equipment damage, and costly repairs. Seek a qualified professional's assistance with all the necessary tools and knowledge to repair your water heater. Even if you have the necessary knowledge, it is easy to overlook a small yet essential detail that could cause severe problems. We also offer installation and repair services for tankless water heaters.
Water Heater Repair Warning Signs In Gwinnett County
Here are a few ways to tell if you may have a water heater issue. If your hot water is either cold or takes too long to get hot, it may indicate a bad heating element or thermostat. Here is a great tip to ensure the safety and longevity of your water heater. It is essential to regularly check the base of your water heater for any pools of water, as this could be a sign of a potential leak. Catching leaks can help prevent costly damage and ensure that your water heater continues to run efficiently.
If you notice that the water from your faucet is cloudy or full of rust, it could indicate contamination, making it unsafe to drink. In such situations, it is best to seek professional help. Homeowners can contact Anthony Wimpey Plumbing for assistance and avoid trying to fix the problem themselves. So, call the affordable plumbers near me Gwinnett County trusts.
Now is a great time to learn more about water heater care and maintenance from the pros, Anthony Wimpey Plumbing. Read our recent press releases to find out how With Annual Maintenance Home Water Heaters Can Last 20 to 25 Years! In addition, Anthony Wimpey Plumbing in Lawrenceville Reveals Signs Indicating a Water Heater Replacement Is Needed. And please check out Lawrenceville, GA Plumbing Service Discusses Water Heater Repair Options.
Water Line Replacement Plumber
When investing funds in water line replacement services, a "trustworthy plumber near me, Gwinnett," is necessary. Anthony Wimpey Plumbing is precisely that plumber, so customers can feel assured in their choice to use our services. Should the need arise for water line repair, customers should confidently reach out to Anthony Wimpey Plumbing.
There are a few reasons that water lines may need replacement. One of the most obvious signs is a sudden drop in water pressure, which can occur due to blockages or leaks in the line. Another sign is discolored water, which may indicate rust or other contaminants in the line. You may also notice an increase in your water bills, due to leaks or other issues with the line. Finally, any damage to your yard or foundation could indicate a severe water line issue that requires immediate attention. If you notice any of these signs, contact a pro plumber to assess the situation and determine if a water line replacement is necessary.
Gwinnett Area Plumbers Near Me Replace Water Lines For These Reasons
Water Line Damage
Inadequate Water Pressure
Low Water Volume
Pipe Corrosion
Old Water Lines
Inferior Pipe Material
You need a replacement whether your water line is polybutylene, another inferior material, or has corrosion damage. In addition, the solution for low water pressure is often a water line replacement. We provide affordable plumbing near me, Gwinnett, so contact us today.
Our plumbers near me will replace water lines all over Gwinnett County. It is time to have the water pressure you dream of finally, and we can make that happen.
If your home's water volume is low, you may need to replace your line. While replacing fixtures can sometimes improve water pressure, low-volume issues require more extensive work. How can you determine if you need to replace your water line?
Water Line Plumber Near Me
If you have had adequate water pressure and volume in the past but have observed a recent decrease in water pressure, that is a problem. Typically, this indicates that something has malfunctioned or broken along the pipeline, causing water to leak. The leakage could be happening in your yard or under your house, which can be hazardous. Moreover, it may cause weak spots in your lawn or foundation and jeopardize the stability of your property. If you notice these signs, you must promptly call a plumber to address the issue.
Other signs of a water line failure include dripping, pooling, or flooding water inside the house. In that case, it is critical to call a plumber. On the phone, our plumbing professionals will walk you through steps to get the water under control. When the leaking water stops, you can wait for a plumber to arrive without suffering more water damage.
Call us today if you need water line replacement services due to a necessity or a preference. Your low water pressure or leak issues will not fix themselves.
Garbage Disposal Installation, Toilet Installation, Fixture Repair, and More Plumbing Services
Do you need affordable plumbing services in Gwinnett and its surrounding areas? Look no further! Our comprehensive plumbing services cater to all your plumbing needs. We cover you, from affordable plumbing repair to quick water heater services. Our skilled plumbing experts offer sump pump repair, repiping, faucet repair, plumbing garbage disposal, and more. Trust us to be the only plumber you will ever need near you.
Affordable Plumber Near Gwinnett

We offer Gwinnett's best drain cleaning services to Berkeley Lake, Duluth, Buford, and other areas in the county. A clogged drain is not always the time you will need an emergency plumber near me. Sometimes, however, drain cleaning services cannot wait until morning. Either way, our Gwinnett plumbing company will immediately send a plumber to clean your drains.
Whether you need drain cleaning for a slow-draining toilet, shower, sink, or tub, we handle it. Our plumbers provide the drain cleaning you need at very affordable prices. Also, we provide drain cleaning for kitchen sinks, water lines, and sewer lines.
Best Plumbers Near Me Gwinnett
We are the plumber near me Gwinnett, for excellent customer service. So, expect attentive service and high-quality work from Anthony Wimpey Plumbing. Our local plumbing company promises you trustworthy service, and rest assured that our plumbers will be on time and repair problems quickly for a reasonable price.
In addition, our plumbing company has over three decades of local area experience, dependability, and plumbing skills to offer. So, our local family-run plumbing business near me in Gwinnett is a community favorite. Customers may contact Anthony Wimpey Plumbing by phone for more information on our plumbing services. Please call 770-415-8133.